Young investigators
From blame poetry to fragile ecologies, undergraduate research is in full bloom
by Helene Ragovin
What a difference a day makes.
Participation in the annual Undergraduate Research and Scholarship Symposium increased by approximately 50 percent this year, the first time the event was scheduled on a Friday instead of a Saturday. "The turnout exceeded expectations," said Cailin Joyce, A06, chair of the symposium committee.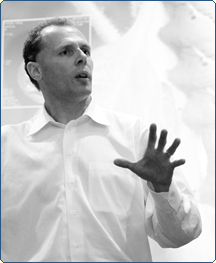 Biology professor Barry Trimmer, who has worked with 90 Tufts undergraduates, was the keynote speaker for the Undergraduate Research Symposium. © BRIAN LOEB
"Moving [the symposium] from Saturday to Friday was clearly the thing to do," said James Glaser, dean of undergraduate education. "This is what it's all about. Research is about discovery. It's about students learning on their own and teaching other students what they found. This event brings it all together."
The March 10 symposium featured 74 oral and poster presentations, representing two dozen departments and programs from Arts, Sciences and Engineering. (Last year, there were 49 presentations.) The research projects reflect work done by Tufts undergraduates on the Medford/Somerville campus, at hospitals affiliated with the School of Medicine and around the globe.
Many projects crossed disciplines, including Amanda Fencl's work with women in a Malagasy fishing village. Fencl, a junior majoring in international relations, worked with the African women to set up an association to find environmentally sustainable economic development projects—ways they could earn money, such as through sewing or crafts, without further damaging the ecologically sensitive reef near their homes. The reef near the village of Ifaty, once a draw for ecotourism, is being threatened by overfishing.
"I started working on reef preservation," said Fencl. "But I realized you also have to work with the community." Her faculty mentors are Astier Almedom, the Henry R. Luce Professor in Science and Humanitarianism, and George Ellmore, associate professor of biology.
Amara Nickerson, A06, an international relations major, analyzed food aid in Guatemala. Her mentors were Consuelo Cruz, assistant professor of political science, and Beatrice Rogers, a professor at the Friedman School of Nutrition Science and Policy.
During a trip to Guatemala—where nearly half the population suffers from chronic malnutrition—Nickerson looked at the effects of food aid on mother and child nutrition. She also examined the shortcomings of food-aid programs.
Oral presentations covered a wide range of topics. Within the space of just an hour, for example, visitors heard thoughtful discussions about the political future of Hamas; the history and function of Greek and Celtic "blame poetry"; the importance of educating women about ovarian cancer and the economics of social services provided by faith-based organizations.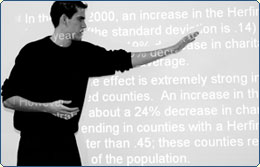 Senior economics major Mike DeBartolo presents his work on the economics of faith-based organizations in the United States. © BRIAN LOEB
"My feeling is you learn best by doing," said Colin Orians, associate professor of biology and faculty advisor for the symposium. "Any time students are given an opportunity to do research, whether it's in the humanities or the sciences, it's a better learning experience."
Taking on a long-term project gives students a better sense of what research is really like, Orians said. "In the sciences, we have short [lab classes], but that's not really what science is like, at least not in biology," he said. "Students need to realize that you start, and then you build, build, build … it gives you a sense of ownership in a project."
The symposium was opened by Barry Trimmer, professor of biology, pharmacology and neuroscience, who discussed his work creating soft-bodied robots based on the movement of caterpillars. He even brought along a few of the four-inch-long, iridescent-green tobacco hornworms he's been studying for the past 19 years and encouraged the audience to get up close and personal with his wriggly study subjects. Like most of his colleagues, Trimmer has many undergraduate research assistants in his lab and has worked with 90 undergraduate researchers during his career at Tufts.
Moving the annual symposium to a weekday was among the recommendations of the Task Force on the Undergraduate Experience. Having the event on Friday meant that more faculty mentors as well as students were on campus to participate, said Kate Nash, coordinator of scholarship and enrichment programs.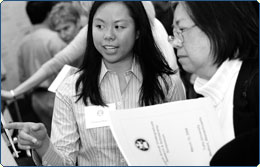 Christina Mercado, a senior majoring in civil engineering, explains her research on the geological effects on seismic acceleration in Kobe, Japan, which was hit by a devastating earthquake in 1995. © BRIAN LOEB
"These students get a lot out of their mentors," said Orians. "They're not just doing it alone. [The symposium] is a testament to the willingness of Tufts faculty to spend time and energy working with undergraduates."
Helene Ragovin is a senior writer in Tufts' Office of Publications. She can be reached at helene.ragovin@tufts.edu.