Hip-hop evolution
Sociologist examines identity of New York Ricans
by Helene Ragovin
When Raquel Z. Rivera began research for her book New York Ricans from the Hip Hop Zone (Palgrave Macmillan), her idea was to write a history of the Puerto Rican presence in hip-hop music.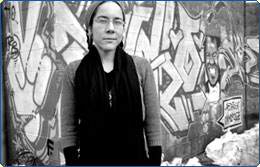 © ZARA TZANEV
What resulted, however, is a work that's as much about culture and identity as it is about music. The story of Puerto Rican New Yorkers and their role in hip hop—from its founding in the 1970s until the present day—reflects significant shifts within popular culture, including changes in the status of hip hop relative to "mainstream" culture; in relationships between Latinos and African-Americans and in the perception of ethnicity and identity among Puerto Ricans and other Latinos.
"I set out to do a more historical piece on the presence of Puerto Ricans in hip hop," says Rivera, an Andrew W. Mellon Postdoctoral Fellow in the sociology department. "Along the way, I became fascinated with issues of identity, especially ethnicity and race. I didn't even plan for that to be the connecting thread throughout the whole book, but it became that. Instead of dramatizing the hip-hop scene…it's really about ideas and issues."
Rivera, a researcher and freelance journalist who also has published fiction and poetry, has been working at Tufts with Deborah Pacini-Hernandez, associate professor of anthropology. Together they share a scholarly interest in Caribbean popular music and are co-editing a book on reggaeton, a form of dance music that incorporates elements of hip hop, Jamaican dance hall music and Latin American elements such as bomba and plena.
Rich area for study
Rivera was raised in Puerto Rico and came to the United States in 1988 to attend Brown University. She has a Ph.D. from the City University of New York, and her scholarship focuses on urban sociology, cultural studies and Latino studies. She's aware that hip-hop music can be perceived as an unlikely subject for scholarly investigation.
"Anything humans do is worthy of study," she says. "Music, clothing, food, the things of everyday life—it's all a rich area for study."
When hip hop was born in New York City in the 1970s, and for many years afterward, it was viewed as an almost exclusively African-American phenomenon, even by many of the artists themselves. "A lot of early Latino artists treaded lightly. They were careful of not drawing on their 'Puerto Rican-ness' too much," Rivera said.
In her book, Rivera examines some of the underlying tension that resulted between Latinos and African-Americans in the hip-hop scene. Looking back some 30 years later, there is a tendency among some hip-hop pioneers to "romanticize" the mood of the early days—to say, 'oh, everyone got along,' " Rivera says. "But there was conflict at the same time."
When hip hop began, Puerto Ricans were the dominant Latino community in New York by far. As such, "Puerto Rican," or, more specifically, "Nuyorican" or "New York Rican," became an identifier for most young Latinos, regardless of their background, Rivera says. "Many young people growing up at that time in New York somehow identified with Puerto Rican-ness—even some African-Americans."
Yet Rivera faced a linguistic dilemma when it came time to title her book. "There's a debate over the use of the term "Nuyorican," Rivera said. "It was, at one time, seen as a pejorative term, used by those on the island for those in New York City." In the late '60s and '70s, it was 'reclaimed' by Puerto Ricans living in New York—most noticeably by the establishment in 1975 of the Nuyorican Poets Café, an arts organization in the East Village.
"For the book, I decided on New York Rican, however people define that," she said, "because I was really trying to convey a sense of ethnicity and place, and to avoid labels."
Helene Ragovin is a senior writer in Tufts' Office of Publications. She can be reached at helene.ragovin@tufts.edu.