26.2-mile challenge
Primed for the Boston Marathon
Two hundred Tufts runners will join President Lawrence S. Bacow at the starting line in Hopkinton, Mass., on April 17 for the 110th running of the Boston Marathon. The Tufts team is participating in the fourth annual President's Marathon Challenge, which raises funds for nutrition, medical and fitness research at the university.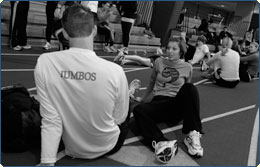 The Tufts Marathon Team stretches in the Gantcher Center prior to a training run. © MELODY KO
Tufts runners raised more than $900,000 during the first three years of the challenge, and more than $228,000 has been received in donations and pledges so far for the 2006 run, according to Eric C. Johnson, executive director of development, who will run his fourth marathon challenge this month.
This year's team consists of 102 students, 41 alumni, 26 faculty/staff members, 10 parents and 21 friends of the university, including Somerville Mayor Joe Curtatone. Most of the Tufts runners are from the Boston area, while others will be coming in from Miami, San Francisco, Dallas, San Antonio, Hawaii and Algiers to join the team.
Throughout the winter, Boston-area team members have participated in interval training runs with Don Megerle, Tufts' longtime men's swimming coach, and attended nutritional seminars hosted by faculty of the Friedman School of Nutrition Science and Policy. "I continue to be impressed by everyone's commitment to being part of the Tufts Marathon Team," Bacow said.
In addition to the runners, another 300 to 400 members of the Tufts community will serve as volunteers and cheerleaders along the 26.2-mile Hopkinton-to-Boston route. More than 100 friends will cheer the team at the nine-mile mark, thanks to the hospitality of Dr. David McGrath, G83, V86, a university trustee and overseer to the Cummings School of Veterinary Medicine.
Members of the Tufts community who want to sponsor one or more of the Tufts runners can pledge directly online and chart the progress of your favorite Tufts marathoner at http://www.tuftsmarathonchallenge.com.