Bridge-builders
22 minutes earn student engineers 5th place in competition
by Aaron Levine, E07
A 21-foot steel truss bridge carried a team of Tufts student engineers to fifth place in the New England region at the American Institute of Steel Construction's student steel bridge competition. It was Tufts' highest finish in three years.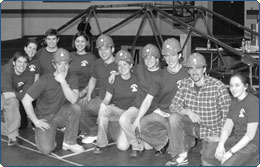 The Tufts bridge-building team and their final product
The Tufts student chapter of the American Society for Civil Engineers fields a team for the annual competition, which is an opportunity for civil engineering students to practice the skills they have learned in class. The students designed, fabricated and constructed out of steel a scale model of a single-span bridge to cross a river and a causeway.
The Tufts team of eight seniors and three juniors, led by senior captain David Czulada, built a truss bridge for the competition, held March 4 at the University of Maine at Orono. Trusses are used to support a bridge by distributing the loads and forces acting upon the bridge.
The students drew a three-dimensional model in AutoCAD, a computer-aided drafting program. Foster Precise, a steel fabricator in Georgetown, Mass., used the AutoCAD drawings to fabricate the bridge sections. The team brought the sections back to Tufts to practice for the construction part of the competition.
Each team is judged on three criteria: how fast they can construct the bridge; how much the bridge weighs and how much the bridge deflects (bends or sways) under a load of 2,500 pounds.
The team is looking to improve on this year's performance next year. The build time for the Tufts team was 21 minutes, 55 seconds, while the winning team from the University Connecticut built its bridge in about 10 minutes.