Global docs
$5 million Gates grant funds vaccine research
by Jacqueline Mitchell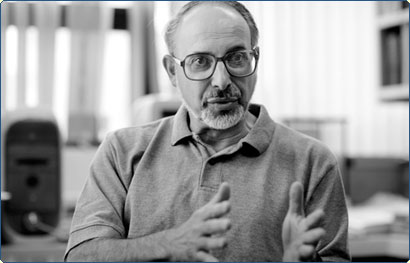 © MELODY KO
Ten years ago, microbiologist Abraham "Linc" Sonenshein got a phone call from colleague Gerald Keusch, then chief of geographic medicine at Tufts-New England Medical Center: Could the common soil bacterium Sonenshein studies serve as a delivery system for heat-resistant vaccines?
"The question had never crossed my mind," recalls Sonenshein, professor of molecular biology and microbiology at Tufts. "But I immediately saw how it could be done."
The researchers' conversation led to several years of work that culminated in a paper published in Vaccines 9, a publication of Cold Spring Harbor Laboratory that demonstrated the feasibility of the new kind of vaccine. But the approach was so novel that Sonenshein's colleagues were unable to obtain funding from traditional sources, and the project lay dormant for six years.
Hope for 27 million kids
Then this summer, the Bill and Melinda Gates Foundation awarded $5 million to Sonenshein and his team to support research into a new generation of vaccines that could be administered through the spores of the soil bacterium B. subtilis. Sonenshein—who has worked with the harmless bacterium for four decades—and his colleagues will attempt to genetically engineer the organism to express the antigens for specific pathogens on the surface of the bacterium. Antigens are the proteins that stimulate the immune system to develop resistance to specific diseases.
The work could make inexpensive, needle-free, heat-resistant medications widely available in developing nations where poverty, the lack of trained personnel to give injections and inconsistent refrigeration means some 27 million children annually are not protected against common childhood diseases.
"The dream scenario is that we can distribute these freeze-dried spores in a packet," says Sonenshein. "They have an infinite shelf-life, and they can be taken orally mixed with juice or water."
Sonenshein is the principal investigator for the research team that includes Dr. Saul Tzipori, professor of biomedical sciences and director of infectious diseases at the Cummings School of Veterinary Medicine at Tufts, and Dr. Miguel Stadecker, professor of pathology. The team will collaborate with Keusch, now associate dean for global health at Boston University's School of Public Health, who made that prescient phone call a decade ago.
They will focus on developing two vaccines—one to combat diphtheria, pertussis and tetanus and one to prevent rotaviral diarrhea, a disease that kills 500,000 children in developing nations each year.
The tasks at hand
Sonenshein and his colleagues will have to answer several questions before they achieve their dream scenario. Topping the list, they'll have to discover the antigen that protects against rotavirus, for which there currently is no vaccine. Moreover, the researchers don't know exactly how to induce the best immune response, nor do they know how big a dose will be required.
Meanwhile, Tzipori and his colleagues at the Cummings School will work to better understand how the bacteria itself will behave in the body. "As [the Boston-based researchers] develop the genetic constructs, we'll be testing each of the strains," says Tzipori. "What do these bacteria do in the body? Do they multiply? Which part of the gut do they occupy? For how long—three or four days or three or four weeks?"
Once these basic questions are answered—within a year, Tzipori predicts—the scientists will then turn to the question of how much of the vaccine will be required to confer immunity. Will a booster dose be required, and will it be safe to give more than one? Finally, the researchers will test each vaccine individually and then in combination for safety, compatibility and effectiveness.
With work going on simultaneously on both the Boston and Grafton campuses, the first clinical trial in humans could be under way in five years, Sonenshein predicts.
"It's a wonderful example of how a team within Tufts—the people downtown came to us—combined their expertise to make the application a success," says Tzipori.
The grant funding the Tufts group is one of 43 the Gates Foundation awarded in June as part of its Grand Challenges in Global Health initiative. Providing a total of more than $436 million for research, the initiative encourages scientists to seek innovative solutions to 14 major public health problems in the developing world, including preventing insect-transmitted diseases like malaria; growing more nutritious staple crops to combat malnutrition and more accurately diagnosing and tracking diseases in places with poor medical infrastructure. Research teams in 33 countries received awards.
Science as active citizenship
To receive the funding, awardees agreed to make all discoveries that arise from their research available royalty-free. "Scientific advances are of little value unless they are accessible to the people who need them," said Dr. Richard Klausner, executive director of the global health program at the Gates Foundation.
It's a philosophy that Tufts researchers embrace eagerly. "Tufts was more than happy to comply," Sonenshein says. "It fits right in with the university's emphasis on internationalism and active citizenship."
In addition to the Sonenshein grant, Andrew Camilli, associate professor of molecular biology and microbiology at the School of Medicine and a Howard Hughes Medical Institute investigator, is a co-investigator on a $14.8 million Gates-funded project with Roy Curtiss of Arizona State University to develop a single-dose oral vaccine for bacterial pneumonia for newborns. The current vaccine requires a complicated regimen of four injections given at specific intervals.
Jackie Mitchell is a senior health sciences writer in Tufts' Office of Publications. She can be reached at jacqueline.mitchell@tufts.edu.