Under siege
Tufts study warns of impending famine in Darfur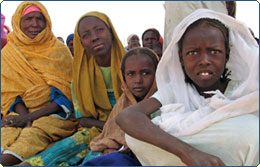 © CORBIS
The challenge for the Darfur region of the Sudan and the international humanitarian community is to help protect and support the basic means by which people survive over time, according to famine researchers at Tufts.
"A brutal counter-insurgency on the part of the government of Sudan against rebel groups in Darfur has had horrific repercussions for civilians and has left many of the towns in Darfur in a state of siege, cutting people off from their normal livelihood strategies," says Helen Young, director of the Public Nutrition Program at the Feinstein International Famine Center. Young is the lead researcher on a new famine center report, "Darfur—Livelihoods under Siege."
The report warns that "region-wide famine appears inevitable."
"Inhabitants of rural Darfur, who depend on crops and livestock for their livelihood, are also restricted by insecurity," Young said. "They fear traveling or even cultivating their fields for risk of attack by the armed militia of the government of Sudan or by rebel groups."
The researchers conducted extensive field work in the region, including neighboring Libya, where Tufts was the first academic research team to enter the country since U.S. and U.N. sanctions were lifted.
"Livestock trade, the traditional backbone of the region's economy, is failing fast," said Young, associate professor at the Friedman School. Conflict in the region has changed livestock migration patterns, causing deaths among livestock confined in areas where pastures and water resources are depleted. Livestock trade routes have been disrupted, contributing to the failure of the livestock market.
"Food aid," Young said, "can help address crop and livestock production failures, but cannot address other issues, particularly the underlying conflict."