Next steps
Summer Scholars discover their passions—and careers
by Helene Ragovin
Karolina Mizeracka and Emily Pfeil, both A05, spent much of their undergraduate years in a basement lab with 200 frogs and a devoted mentor.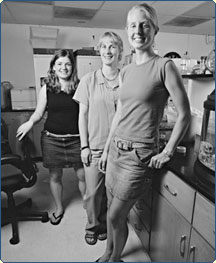 Karolina Mizeracka, left, and Emily Pfeil with their mentor, biology professor Kelly McLaughlin, center © MARK MORELLI
This fall they have moved on to the next phase of their careers: Mizeracka to pursue a Ph.D. at Harvard, where scientists are vying to attract her to their research teams, and Pfeil to medical school at Johns Hopkins.
Both are products of Tufts' Summer Scholars Program, an endeavor that promotes undergraduate research opportunities and increases student/faculty interaction among Tufts' three campuses and its affiliated hospitals. Both alumnae credit Summer Scholars with fueling their academic careers.
"It's a great program that gives students the experience to get to the next step," says Mizeracka, who majored in biochemistry.
The program, which this summer completed its third year, had its genesis in the recommendations of the university's Task Force on the Undergraduate Experience. It provides funding for undergraduates and faculty to collaborate on extensive research projects during the summer that most likely would be difficult for students to manage during the academic year. Even though the program is relatively new, former Summer Scholars like Mizeracka and Pfeil are evidence that it's become a valuable part of a Tufts education.
This year, 47 Summer Scholars participated in research with faculty from most of Tufts' schools. They focused on subjects as varied as contemporary East Asian theater, to organic food to canine hepatitis.
Time to explore
"Summer Scholars offers a great start," said Kelly McLaughlin, assistant professor of biology, who was the faculty mentor for both Mizeracka and Pfeil and who has sponsored a scholar each year since the program's inception. For those studying the natural sciences, particularly, Summer Scholars offers the gift of time.
"One of the problems with biology is that for students to get a very real picture of what science is like, you need to have time," McLaughlin said. "It's hard to get a block of time [during the academic year] to work in the lab and develop real skills."
For students who end up spending 30 or 40 hours—or more—doing lab work or other research, the program also helps alleviate financial concerns. Summer Scholars receive a stipend and funds for materials; they also have the opportunity to live on campus, eliminating the need to pay Boston-area rents.
Before Summer Scholars, "the problem was finding a way to do full-time research during the summer without funding. You needed a way to live," said Pfeil, a biology major who was part of the first crop of Summer Scholars in 2003. Summer Scholars provides students with a valuable addition to their resume. "It's a competitive program," McLaughlin said. Undergraduates apply each spring for a limited number of slots—"so it's an honor and a privilege to be chosen," she said.
The biology of becoming
McLaughlin is a developmental biologist. The researchers in her lab are trying to unravel the mysteries of embryogenesis, the process by which a fertilized egg grows and differentiates into various tissues and organs. It's "the biology of becoming," as she likes to put it.
In particular, Mizeracka and Pfeil contributed to research on kidney development in amphibians—specifically, frogs. This work is "pertinent to human development," McLaughlin said. With more than 20 million Americans suffering from kidney and urological conditions and 50,000 dying each year of kidney disease, "the study of kidney development is of obvious importance to understanding kidney function and disease," McLaughlin said. Her work is the kind of science that's the basis for clinical trials.
The students investigated various signaling pathways that influence how cells respond to developmental cues—the start of the process of organ formation. During their time in the lab, Mizeracka and Pfeil did far more than act as research assistants. They traveled with McLaughlin to professional meetings and conferences. Pfeil is a co-author on a paper that is currently under revision; Mizeracka is co-author on another paper that has been submitted to a professional journal.
At professional gatherings, "other professors and researchers were always surprised to find out [Mizeracka and Pfeil] were undergraduates," McLaughlin said. Last spring, Mizeracka won a poster session during a conference at the Woods Hole Oceanographic Institute. "They didn't even realize she was an undergraduate," McLaughlin said. "She won over graduate students and post-docs."
And both students wrote senior theses based on work begun during their Summer Scholars experience. Encouraging students to complete senior theses was another goal of the Task Force on the Undergraduate Experience. "These senior theses are at least of the level of a master's thesis," McLaughlin said.
McLaughlin also coaches her protégées on what she calls "the other side of science"—the vital activities that exist outside the lab. She works with the students on interview skills; provides practice for giving talks and presenting papers; offers advice for writing cover letters and CVs. Students are also introduced to the skill of writing, editing and reviewing grant applications and scholarly papers.
"If they didn't know this, they would be missing a big part of what it's like to be a scientist," McLaughlin said.
"One of the important things about the Summer Scholars Program is that it allows you to decide is this what your passion is going to be?" said McLaughlin. "Because once you do it and love it, it's not just a job."