After the flood
The challenges are enormous for rebuilding New Orleans
by Marjorie Howard
The reconstruction of New Orleans following Hurricane Katrina is a challenging engineering problem, but it is also a question of politics, planning and social policy, say several Tufts professors who have been observing the aftermath of the storm and the flood.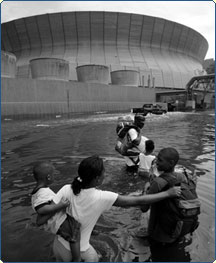 New Orleans residents plow their way through rising floodwaters to the Superdome on August 30. © MICHAEL AINSWORTH FOR CORBIS
Two engineers and a professor in urban and environmental policy and planning say the technology is available to protect New Orleans from future flooding—but the costs will be enormous, raising questions about how and whether it should be done.
Lewis Edgers, professor of civil and environmental engineering, wrote his doctoral dissertation at MIT on levee construction along the Atchafalaya, a river in Louisiana that runs parallel to the Mississippi.
"There are great challenges in trying to protect New Orleans from floods and hurricanes, and these challenges are well known to the engineering and technical communities," he said. "The city is below sea level and was built on soft, Mississippi Delta soils. So here's the rub: If you want to create a levee 10 feet high, the weight of the levee will cause the soil to compress. In time, the levee will sink, just as the entire city sinks." Simply building higher levees doesn't solve the problem, he said, because the higher they are, the wider they have to be to provide enough support.
Edgers said the technology exists to rebuild New Orleans, but it's a matter of public policy, economics and politics as to whether it should be done. He noted that most of the country of Holland is below sea level, and that nation built an elaborate and costly dike system for protection. "They have earthen structures like levees and flood gates so they can control the water," he said. "The Thames in London, the City of Venice—each has built protection against flooding."
But, he asked, "Where will the money come from [to rebuild New Orleans]? From public interests? From private interests? It will cost hundreds of billions of dollars. Is this, in fact, the best way to spend resources? Should New Orleans be rebuilt the way it was? From an engineering point of view, the lesson we learn once again is that what we build needs to be respectful of and accommodate nature."
A failure to communicate
Brian Brenner, professor of civil and environmental engineering, said he has discussed Hurricane Katrina in his classes in terms of cost and policy. He poses what he calls Question A and Question B. Question A is, "If you were to ask a resident of New Orleans about a month ago whether he or she would be willing to contribute some amount of money per person to do whatever it takes to make sure the levees are okay, what do you think the answer would be? Question B is the same question, but asked now, after the storm."
The students' answers are instructive. Most believe that the answer to Question A would be no, while the answer to B would be yes. Prior to the storm, Brenner said, there was a failure to communicate the ramifications of a potentially severe problem. "To me, part of the message here is better communication and a better understanding of what is expected," he said. "The public expectation is that infrastructure should work. When you walk into a building, you don't expect the ceiling to fall. This expectation can be a double-edged sword if it masks problems that need to be addressed. Fortunately, engineering is typically done so well that it's in the background."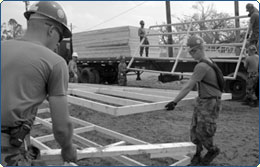 U.S. Navy Seabees assemble the foundation for the first of 75 temporary shelters in Pass Christian, Miss. © JAMES PINSKY/U.S. NAVY/ZUMA/CORBIS
Rachel Bratt, professor of urban and environmental policy and planning, said that in addition to the physical repairs New Orleans needs, "a whole other level of questions relate to the social structure of the city. How can you create a safe economic structure, a better social environment and more opportunities for people living there? You're looking at the city in the broader social context of there being no national health insurance, a minimum wage that is not enough to survive on and where people don't have the opportunities to get jobs that pay a living wage. What will we be willing to pay to provide better opportunities to the poor residents of New Orleans? Do we just recreate the same patterns of settlement and job structures? Or do we do something spectacular and make this a model city for the rest of the country?"
Loss of social fabric
Bratt called the relocation of the city's residents "the New Orleans Diaspora" in which massive numbers of people were displaced and a major city is no longer functioning.
One key difficulty, she said, will be dealing with the loss of the social fabric that makes up neighborhoods. "Any community depends on the physical proximity of neighbors and churches and social systems, and these are all gone. It could be the informal child-care arrangements you have because a mother-in-law lives around the corner. But right now people are displaced and scared.
"What I'm underscoring," she said, "is that as the physical rebuilding is getting done, we have to think about the social and economic planning that has to go along with it."
Marjorie Howard is a senior writer for Arts, Sciences and Engineering in Tufts' Office of Publications. She can be reached at marjorie.howard@tufts.edu.