Novel ideas
Risk-taking makes good literature, Rushdie says
by Marjorie Howard
Author Salman Rushdie entertained and enlightened an overflow audience at Cohen Auditorium on September 27, and, like an honored guest at a dinner party, touched on a wide range of topics, including the future of the novel and his childhood in India, which has influenced his work.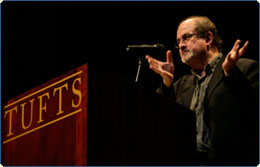 Salman Rushdie © MELODY KO
Rushdie spoke as part of the Snyder Presidential Lecture Series, which was endowed by Richard E. Snyder, A55, the former chairman and chief executive officer of Simon & Schuster. The event was simulcast in the Balch Arena.
In a conversational format liberally sprinkled with humor, Rushdie began this way: "About that little altercation I had with the Ayatollah Khomeini, I'd like to point out that one of us is dead. My advice: Don't mess with writers."
Rushdie was referring to the nine-year-long fatwa Khomeini, the leader of Iran, issued against him in 1988, following the publication of his novel Satanic Verses, which Khomeini decreed was blasphemous. A fatwa is a legal pronouncement in Islam, and the order was a death sentence for Rushdie. Khomeini died not long after issuing the fatwa. Rushdie, meanwhile, went into hiding and continued to write novels and essays. The fatwa was lifted in 1998. His newest book, published this year, is Shalimar the Clown.
Rushdie discussed the challenges of writing novels, noting that "good literature does not happen in the safe middle ground, in the place where there is no risk."
One of the problems of the modern novelist, he said, is that public events impinge on private lives in ways they have not in the past. When Jane Austen was writing her novels, he said, the Napoleonic Wars were being conducted, yet there is no mention of these wars in her books. However, he noted, making a story topical risks making it out of date.
He said there has been a "divorce" between the popular novel and the so-called literary novel. "One has a big narrative engine and nothing else…The literary novel has ideas and is well written but has a small narrative engine."
His own writing efforts lie, he said, in merging the literary novel with story telling. In his work, he draws upon the oral story-telling tradition—which he described as "joyful and playful"—in his native India.
"The truth about the world is so much weirder than anything in my books. I'm trying to tone it down…Have you noticed how strange things are lately?"
He ended his speech by making an argument for free speech: "Novelists seek to open up the universe a little more, and to do that, they do not seek middle ground. Not everyone wants the universe opened a little more, and they push back, and it can be dangerous."
Marjorie Howard is a senior writer in Tufts' Office of Publications. She can be reached at marjorie.howard@tufts.edu.