Online learning
Have curriculum, will travel the world
by Bruce Morgan
When you're headed across the ocean to start medical school, you need to pack your luggage as well.
Several years ago, Andu Gedermichael, then chair of the chemistry department at Boston's Roxbury Community College, found himself facing just that challenge. A native Eritrean, Gedermichael had been recruited to help his nation create its first medical school from scratch, and he was proudly answering the call. The new school had a desperate need for medical teaching materials. That is why he filled every square inch of the compact car that he was shipping to Africa—including open space under the hood—with second-hand textbooks and microscopes.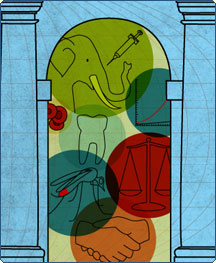 © ALYSSIA NEWTON
Now imagine instead if, free of charge, those students in Eritrea could use their computers to sample an up-to-the-minute course on infectious disease taught by Tufts medical school faculty. Wouldn't that be like opening a trunk of gold?
The vision of distributing intellectual content to people and places where it stands to make a difference is the catalyst behind OpenCourseWare (OCW), an innovative online learning resource initiative. Tufts joined the initiative, begun by MIT, by launching its own website and courses in June. Other schools currently online or planning to collaborate on the program include Johns Hopkins School of Public Health and Utah State.
The new initiative differs from the usual distance-learning paradigm. Unlike distance learning, which requires payment of tuition, allows contact with faculty and grants course credit, OCW is simply publication of available course materials. Typical content for an OCW course may include the course outline and schedule, lecture notes, reading lists, video/audio presentations, essay assignments, problem sets and quizzes.
Tufts' initial offerings are culled from the university's internationally renowned health sciences schools and coordinated through the Tufts University Sciences Knowledgebase (TUSK), widely regarded as the nation's most advanced and comprehensive online educational database in the health sciences. Future plans will populate the site with more health sciences offerings and courses from the Fletcher School and Tufts' schools of Arts and Sciences and Engineering.
A $200,000 grant from the William and Flora Hewlett Foundation will help spur the project's growth.
University-wide offerings
All participating institutions contribute course material to the total curriculum, with Tufts tapping its recognized strengths in the life sciences and curricula with expansive international dimensions. The university's first slate of offerings includes courses in infectious diseases, epidemiology and biostatistics, and microbiology (from the School of Medicine); theories of public policy (Friedman School of Nutrition Science and Policy); zoological medicine and histology (Cummings School of Veterinary Medicine); implant dentistry and oral public health (School of Dental Medicine); and international multilateral negotiation (Fletcher School). Course material is rich in text and graphical representation of materials.
"Our involvement in OpenCourseWare embodies the many facets of active citizenship," says Dr. Mary Lee, project steward for OCW, associate provost of Tufts and dean for educational affairs at the medical school. "One of the missions of the university is sharing knowledge, and our faculty offering high-quality course content is a very tangible way of disseminating [that] in an accessible format."
Lee notes that OCW materials can be mined by anyone with access to a computer. The users may be faculty members or students of all kinds, whether formally enrolled in a school or independently pursuing education. They may be located across town or halfway around the world.
"We see this as a wonderful example of the university contributing its resources to the broadest audience possible," says Nancy Wilson, OCW project director and director and associate dean of Tufts' University College of Citizenship and Public Service. "In this instance, the university itself is the active citizen—reaching out across the globe."
Distance doesn't matter
Tufts President Lawrence S. Bacow said, "The best thing about our participation in OpenCourseWare may be the way that it helps us to extend the reach and magnify the impact of our teaching by filling in critical knowledge gaps wherever they occur, even at great distances from our home campuses."
Binzhou Medical College in northeastern China, with an enrollment of more than 5,000 medical students, is one of those remote sites that may benefit. Binzhou officials visited the School of Medicine last winter for a briefing on the system. "When we showed them the resources on TUSK and told them that part of this would be available through OCW, they said, 'Tell us when!' " Lee said.
Min Xu, a surgical resident at Tufts-NEMC and a 1985 graduate of Binzhou, describes the facilities back home as "pretty primitive" by U.S. standards. "China is still a Third World kind of country," he explains. "The people from Binzhou felt that OCW would be really useful for their students."
A more extreme scarcity of resources prevails at the Orota School of Medicine in Asmara, Eritrea, where a first class of 30 students has been enrolled and where Gedermichael—he of the overflowing compact car—is in charge of curriculum for the first two years. "They have a building," reports John Castellot, professor of anatomy and cell biology at Tufts who is a friend of Gedermichael and advised him on the venture. "You're talking about bootstrapping a medical school. OpenCourseWare is going to be absolutely critical for Eritrea."
The good news runs even deeper. "There's a mutual benefit here," Castellot suggests. "American medical students who haven't been overseas have no idea how difficult the conditions are. For example, infectious disease is hugely more prevalent in Africa than it is here. Machines like X-rays and CT scans are few and far between. So our connections to these places through OCW may raise people's consciousness about what it's like in developing countries—and how they might help."
For more on OpenCourseWare go to http://ocw.tufts.edu.
Bruce Morgan is the editor of Tufts Medicine, the alumni magazine of the medical and Sackler schools. He can be reached at bruce.morgan@tufts.edu.