Tool for social good
$100 million fund partners Omidyar Network with Tufts
Pierre Omidyar, founder of eBay and co-founder of Omidyar Network with his wife, Pam—both graduates of Tufts University—will invest $100 million in international microfinance initiatives through a unique partnership with their alma mater.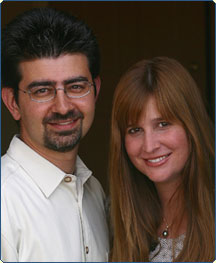 Pierre and Pam Omidyar © JOHN LAPTAD PHOTOGRAPHY
The $100 million endowment gift is the largest single gift in the history of Tufts University as well as the largest private allocation of capital to microfinance by an individual or family. The Omidyar-Tufts Microfinance Fund will be invested solely in international microfinance initiatives. An independent supporting organization controlled by a board of directors will have fiduciary responsibility for investing the funds.
"Partnering with the Omidyars to advance microfinance is a strategic fit for Tufts on many levels," said Tufts President Lawrence S. Bacow. "As an economist, I'm attracted to microfinance as a financially self-sustaining model for making a difference in the world. Tufts' commitment to active citizenship is a global pursuit that runs deep, and we are pleased to leverage resources that yield so many positive returns."
Fifty percent of earnings from the fund will be reinvested in the original pool for additional microfinance programs. The remaining 50 percent of income will advance important Tufts programs, including support for faculty, financial aid, debt forgiveness for graduates pursuing careers in public service and scholarships that will enable economically disadvantaged students to attend classes during summer session.
"We believe that business can be a tool for social good. Microfinance has already shown that enabling the poor to empower themselves economically can be good business," said Pierre Omidyar, A88. "By engaging Tufts as an institutional investor in this space, we hope to demonstrate its potential to a wider institutional investor audience and respond to the industry's call for private capital to help it scale."
The $100 million investment will bolster international microfinance institutions in their efforts to scale their capacity to make loans to poor, predominantly female heads of households who lack adequate income to provide the basic necessities of food, shelter and clothing for themselves and their families. Microloans averaging $600—often as low as $40—enable the poor to launch their own entrepreneurial pursuits.
Pierre Omidyar noted that strategic alignment with Tufts was ideal for many reasons. "The university has not only demonstrated leadership in educating active citizens, but Tufts also has consistently engaged in seeking practical solutions to real-world issues around the globe," he said.
This investment in international microfinance builds on the Omidyars' well-established partnership with Tufts. In 1999, the University College of Citizenship and Public Service at Tufts was founded through the generosity of the Omidyars, and it has gained international attention for creatively embedding public service values, skills and learning opportunities across the curriculum. Outreach activities involve students, faculty, staff, alumni and members of surrounding communities in programs ranging from child literacy to environmental cleanup.
"Through this venture with Tufts, Pierre Omidyar is using the same creativity that produced eBay to influence the world in profound ways," Bacow said, "and we thank Pierre and Pam for this opportunity to be their partner."
More information on the Omidyar-Tufts Microfinance Fund is available at www.tufts.edu/microfinancefund.