Count on them
Tufts secures a niche in applied mathematics
by Helene Ragovin
Industrial scientists seeking to develop environmentally friendly dry-cleaning solvents, Navy engineers looking for ways to detect underwater mines and medical researchers analyzing data from CT scans all have one tool in common—mathematics.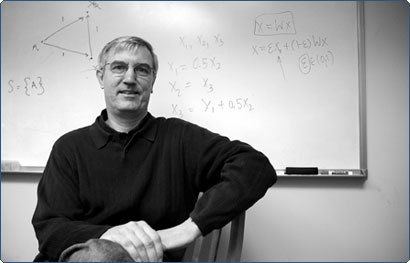 Prof. Christoph Börgers was a catalyst for the new graduate degree program in applied mathematics. © ZARA TZANEV
"Mathematics can help solve problems in science, social science, engineering," says Christoph Börgers, professor of mathematics.
Börgers, along with several other faculty within his department, specializes in the field of applied mathematics, which involves using mathematical principles to solve real-life questions. It's an area that increasingly has attracted working professionals from a variety of backgrounds to Tufts for graduate study.
New degree program
A new master's degree program in applied mathematics has been designed to capitalize on the interest of those graduate students and the strengths of Tufts' applied mathematics faculty. The two-year program was approved by the Faculty of Arts and Sciences last spring; it will officially get under way once the math department fills a vacant tenure-track position, possibly in fall 2006.
"As far as I know, around Boston, there are no other programs of this sort," said Boris Hasselblatt, professor and chair of mathematics. "There are plenty of graduate programs, but no math program designed for this student group, with the intention of going back to working in industry."
One distinguishing characteristic of the program is that students will work on their thesis projects with a primary advisor from the math department and a co-advisor from outside math with expertise in the student's application area. The co-advisor can also be someone from outside Tufts, in industry or research, for example. The math department also intends to create an Industrial Advisory Board with representatives from companies in the Boston area. It is hoped the board will advise on curriculum, help recruit students and help with placement of graduates.
For some time, professionals working for large industries, technology companies and research labs have been coming to Tufts to earn graduate degrees in math—"and that's without a specific program for students like this," Börgers said. "We hope that there will be even more once this program exists."
At Tufts, applied mathematics has grown tremendously over the past decade. Starting with one applied mathematician, Todd Quinto, the Robinson Professor of Mathematics, the department now has four other faculty in the specialty: Börgers, professors Bruce Boghosian and Misha Kilmer and assistant professor Lisa Perrone. The department also intends to hire another applied mathematician this year. The proposal for the master's program was first developed when Börgers, whose research specialty is mathematical neuroscience, was chair of the department.
Strength in numbers
"The strength of our applied math group is that it's not a group working in isolation," Hasselblatt said. "As well as working with others within the department, [the group] also works across schools." For example, Boghosian also holds an appointment in the Department of Computer Science at the School of Engineering; Kilmer and Börgers hold appointments in biomedical engineering.
It's hoped that the reach of the new program will not be limited to graduate students. Applied mathematics courses also add a strong component to undergraduate education, particularly for those students who intend to pursue careers in science or technology, regardless of whether they major in mathematics, Hasselblatt said.
Helene Ragovin is a senior writer for Arts & Sciences in Tufts' Office of Publications. She can be reached at helene.ragovin@tufts.edu.