Charlton Lecture
Alum illustrates power of potassium channels
Dr. Roderick MacKinnon, winner of the 2003 Nobel Prize in Chemistry whose research explains the electrical activity that underlies all movement, sensation and thought, presented the 2005 Charlton Lecture at the School of Medicine on October 11.
MacKinnon, a 1982 graduate of the medical school, spoke on "Voltage-Dependent Potassium Channels." He is the John D. Rockefeller Professor at Rockefeller University and a Howard Hughes Medical Institute investigator.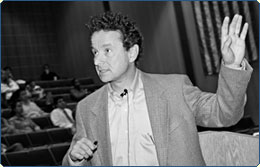 Dr. Roderick MacKinnon © MARK MORELLI
A self-taught X-ray crystallographer, MacKinnon's exquisitely detailed portraits of a class of proteins explain the generation of nerve impulses. These proteins, called ion channels, are tiny pores that stud the surface of all of our cells and allow the passage of potassium, calcium, sodium and chloride molecules called ions. Rapid-fire opening and closing of these channels release ions, moving electrical impulses from the brain in a wave to their destination in the body.
Inherited and acquired defects of ion channels interfere with proper electrical signaling and can be fatal. The prognosis for cystic fibrosis, heart arrhythmias and other inherited and acquired electrical signaling diseases likely will improve in coming years as MacKinnon's discoveries help doctors learn to remedy or prevent them.
The Charlton Lecture, held annually since 1975, is named for Earle P. Charlton, one of the founders of the F.W. Woolworth Co. He built the E.P. Charlton & Co. 5 & 10 Cent Stores from one store in Fall River, Mass., which opened in 1890, to 53 stores in the United States and Canada. In 1912, he merged his stores with those of four other merchants, one of whom was Frank Winfield Woolworth, and the new firm became the F.W. Woolworth Co. Charlton died in 1930.