Global medicine
Around the world in 80 ways
by Bruce Morgan
Eric Nelson, an M.D./Ph.D. student, says he was "flabbergasted" when he realized that the medical school had no student club devoted to global medicine.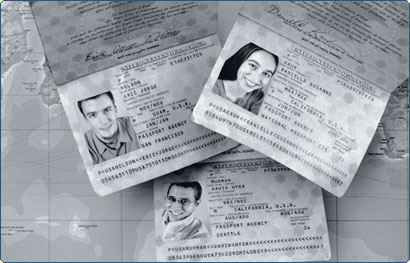 © John Soares

Scrambling to fill the gap, Nelson, Danielle Kauk, a third-year M.D./M.P.H. student, and David Murman, M06, put their heads together and founded the Global Health Interest Group (GHIG) two years ago. The club now ranks among the most popular student organizations on campus.

Nelson has his own yardstick for success. "Usually, to get anyone to come to a lunch meeting, you have to provide food," he notes in the voice of experience, "and one measure of our success is that there often isn't enough food." Recent monthly meetings of the club featuring speakers on international health issues have drawn between 50 and 80 students.

GHIG began with three goals: to launch a monthly speaker series, to establish an international seminar selective program for first-year medical students and to encourage students to spend a fourth-year rotation abroad. A long-term goal of the organizers is to create an endowment to help underwrite the cost of travel for students interested in pursuing global health initiatives. Donations toward this end are welcome at http://www.tufts.edu/med/stu-org/ghig.

Seeking global context
Club speakers have included Dr. Jon Spector, a pediatrician and expert on nutritional therapy for malnourished kids, who discussed his trips to Angola and Darfur under the sponsorship of Doctors Without Borders; Dr. Sherri Fink, an M.D./Ph.D. from Stanford, who has written about the failures and successes of United Nations and NGO operations in war-torn Bosnia and elsewhere; and Dr. Sherwood Gorbach, professor of public health and family medicine at Tufts, who spoke on his long career of dispensing oral rehydration therapy for cholera and other diarrheal diseases in India.

Kauk and Nelson complain that the medical school gives short shrift to such topics. "Social context, yes; global context, no," Nelson says. "We have an 80-year tradition of international medicine at this school—Dr. Gorbach wrote the book on treating infectious diseases in India, for example—but no tradition at all of international health in the curriculum."

The oversight has implications for everyone, the club organizers say, because of the way that crises abroad tend to become domestic problems almost instantly in a time of dissolving borders. "Most doctors will never practice outside the United States," Nelson points out, "but the ramifications of there being 40 million people in the world with AIDS will inevitably affect those at home."

"And just think about all the immigration issues," Kauk adds. Nelson and Kauk note that there's no need to travel great distances to find international medicine. Both students volunteer for a free health van that circulates through Boston, and two-thirds of the people they treat on the van don't speak English, they say.

Affiliate dreams
A GHIG dream would be to establish a regular Tufts-affiliated overseas site for fourth-year students wanting to pursue global health—perhaps in Siuna, Nicaragua, where a six-member Tufts cohort sponsored by Bridges to Community traveled to deliver desperately needed care to residents last year. "What we're trying to do is one-tenth or one-hundredth of what a place like Harvard or Brown does," Nelson suggests, before describing an encounter he had with a student from another medical school at a recent state conference on global medicine. "Oh, yeah," the student reported casually. "When we want to travel abroad, we just go to our travel office and get $3,000 to go work at our school site in Bangladesh."

Nelson lets the anecdote sink in for a moment. "We're kind of missing the boat at Tufts," he says, "and at this point, we in the club are just trying to provide a small rowboat to help people catch up."

It's a big challenge. Nelson and Kauk are frankly overwhelmed by the demands of what they're trying to accomplish in their spare time on a $600 budget. "It's too much work for the students. We need at least a part-time administrator to help out with this," says Kauk. Now that GHIG is off the ground, even the basic details of program planning can be a load. At a recent meeting, Nelson and Kauk had bought lasagna for a crowd of 50, toting the hot trays on the subway with them into Boston, and then had to dash out for supplemental pizza when 30 more people showed up.

Imagine all this and—oh, yeah—being a medical student, too. There's a world of complication for you.

Bruce Morgan is the editor of Tufts Medicine, the medical school's alumni magazine. He can be reached at bruce.morgan@tufts.edu.