Sounds of science
Sister act lights up the local coffeehouse scene
by Marjorie Howard
Meredith Thompson Knight is keeping her day job, and that's just fine with her. Knight is a program manager at the Center for Engineering Educational Outreach where she helps bring more women into the field of engineering. But since 1991, she also has been part of a folk-singing duo that has released six CDs and continues to perform in coffeehouses around the country.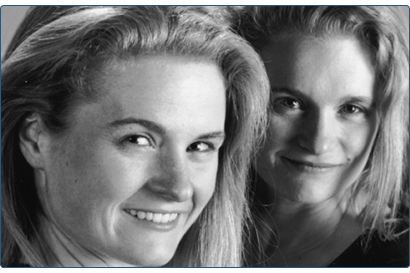 Knight sings with her twin sister, Chris, in an act known as Chris and Meredith Thompson. The pair sings in close harmony and is known for its rich blending of voices and instruments as well as for songs that draw on a wide range of traditions and experiences. Chris usually writes the melody, and both sisters write the lyrics. Often their songs tell stories. "Wildest Sea" was inspired by the book, The Perfect Storm, while "Neruda" is based on works by the Chilean poet Pablo Neruda. Still another song, "Harvest Moon," is sung a cappella and sounds like a haunting medieval chant. They recently released a new CD, "Live," recorded at the Passim Center for the Arts in Harvard Square.
Musical family
The identical twins grew up in Providence, R.I., the children of Camilla, J70, and Paul Thompson, A69, M73, who met as undergraduates at Tufts.
Thompson remembers singing with her sister as children. "Chris and I are very close," she said. "My mom was in the church choir, and Dad played guitar. We grew up listening to lots of different types of music: church music, Woody Guthrie, Peter Paul and Mary, the Eagles. Our influences these days include Gillian Welch and Tracy Chapman."
When the twins were in middle school, Chris babysat for neighbors who knew she played the guitar and told her about the open microphone at the Stone Soup Coffee House in Pawtucket, R.I., where anyone could perform on certain nights. "So they lost their baby sitter," said Knight.
The twins both went to Cornell and continued to perform. They released CDs on their own, joining a group of independent musicians who are not supported by a record label. "It's an amazing community that kind of slides underneath the pop music radar," said Knight.
The twins eventually settled in Boston, which has a vibrant folk music scene. Local venues in which they have played include Club Passim in Harvard Square and Johnny Ds in Davis Square.
Amazing adventures
"People know us for our harmony and for the blend of identical twin voices and for the stories we tell in our songs. Some people compare us to the Indigo Girls," said Knight, adding with a laugh, "though we're certainly not as well known."
Through their music, Knight said, the two have had "amazing adventures," meeting famed folk singer Pete Seeger, traveling to places they might not otherwise have gone, "meeting wonderful people and hearing their stories."
Both women studied science at Cornell. Knight studied chemistry, while her sister studied biology. Last year Knight earned a master's degree in education from Tufts with a focus on engineering education. Her sister is the career services coordinator for the Graduate School of Design at Harvard.
The Center for Engineering Educational Outreach (CEEO), where Knight has worked since September 2002, tries to bring innovation into science, math and technology education using engineering concepts. Ironically, Knight would have benefited from such a program.
"I'm an example of someone who didn't know about engineering when I went to college, and if you don't know about it when you start, it's very difficult to switch into the major," she said. "Our mission at the CEEO is to let more people know about engineering, especially girls and other populations of students who traditionally haven't considered engineering as a career. Even though not every child who participates in one of the CEEO programs will become an engineer, they will at least know what engineering is and to know that it's a career option, and hopefully become more comfortable with it."
Locally, Chris and Meredith Thompson will perform at the Second Friday Coffeehouse in Belmont at 7 p.m. on Friday, April 8, and at Jacob's Ladder Coffeehouse, 25 Washington Street in Malden, on Saturday, May 14, at 7:30 p.m. To learn more about the duo, you can visit their website at http://www.cmthompson.com.