Proud legacy
West Medford remains a jewel of African-American history
by Helene Ragovin
At a time in the not-so-distant past, children would gather after school at the "Little Store" on Jerome Street near Harvard Avenue in West Medford. They'd play ball at Dugger Park along the banks of the Mystic River or gather at the West Medford Community Center, a re-assembled Army barracks across from the park.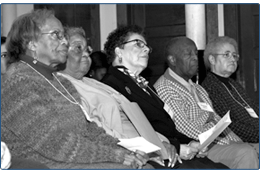 Members of the grassroots committee overseeing the project, from left, Dorothy Elizabeth Tucker, Janice Works, the co-chair, Carol Sharpton, Whitfield Jeffers and Dolores Harris, a retired Tufts employee.
With their parents and neighbors, they'd worship at the old Shiloh Baptist Church at the corner of Lincoln and Fairfield streets, where the issues of the day, from two world wars to the birth of the civil rights movement, were often the center of discussion. On weekdays, it was off to the Hervey School on Sharon Street.
These spots were the landmarks of a vibrant African-American neighborhood with roots going back more than 100 years, located just a stone's throw from Tufts' Medford/Somerville campus but unknown to many at the university. It was a community that thrived, if not always economically, certainly socially and spiritually.
"West Medford is really an extraordinary community," said Rosalind Shaw, associate professor of anthropology. "At a time when it was very difficult for African-Americans to get jobs other than as elevator operators or skycaps or porters, members of this African-American community were sending their children to college, becoming pioneers in education and the arts," she said. "They became entrepreneurs and community leaders at a time when all of these achievements were especially difficult."
This semester, Shaw and her students are assisting in an ambitious community-based initiative, the West Medford Afro-American Remembrance Project, to help preserve West Medford's African-American history. As part of Shaw's class, "Place, Race and Memory: the West Medford Afro-American Remembrance Project," they are preparing oral histories of notable figures, both living and dead, who played a significant role in the life of the neighborhood.
"So much of this history has been lost," said Wallace Kountze, a West Medford resident who is chair of the community group that is organizing the project. "We're just delighted and pleased" that students from Tufts "will work with us, collaborate with us to see this project through."
Vanishing world
Back in the spring of 2004, Kountze and a small group of friends were reminiscing about people from the neighborhood and how the tightly knit community they had known was disappearing. That evening's talk grew into a full-fledged effort to record and archive that history.
"We realized that if we don't do this, it won't be done," Kountze said. "My regret is that we didn't do this 10 or 15 years ago. So many people are gone, and it's sad."
Along with Kountze, the committee members include Janice Works, the co-chair, Dolores Harris, a retired Tufts Dining Services employee and winner of Tufts Faculty/Staff Multicultural Service Award in 2000, Whitfield Jeffers, Carol Sharpton and Dorothy Elizabeth Tucker. Eventually, the group contacted Jay Griffin, president of the Medford Historical Society, which became one of the sponsors. The project also will receive funding from the U.S. Department of Education's Project LOCAL (Learning Our Community's American Lore).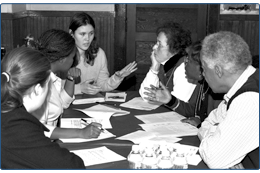 Working on the Remembrance Project, from left, Danielle Flynn, a Medford High student; Nakeiha Primus, A05; Pearl Emmons, A08; Louise Jordan, a community resource person; Shirley Kountze and Wallace Kountze, chair of the project.
And Kountze got in touch with Shaw to see how Tufts could become involved. Previously, Shaw's classes had worked with the Medford community on an exhibit about the slaves who once lived at the historic Royall House.
After paring down a list of more than 150 "nominees"—those not chosen this semester will be the subject of future work—10 people, including two married couples, were chosen. Shaw's students each were assigned a person or a couple to research and interview along with "resource people" who are in some way uniquely connected to the person. For those subjects who are deceased, the students will compile the biographies through interviews with at least three people who knew the subjects well.
The completed oral histories will be posted on the Internet, and the biographies and other materials will be used to create an exhibit at the Medford Historical Society Museum. Next semester, students from Brandeis University will continue the project, and it will return to Tufts in the spring of 2006. (The two universities work together as part of the Greater Boston Anthropology Consortium.)
Shaw's eight students are an eclectic, interdisciplinary lot, including not only undergraduates, but students from the Museum School, the Eliot-Pearson Department of Child Development and alumna Gwynne Langley, G04, who now works for the Perseus Digital Library. Three students from Medford High School are also working with the group.
Creating opportunity
African-Americans began arriving in Medford in the colonial period and before the Civil War, when the city was a stop on the Underground Railroad. Migration from the South became brisk after World War II, Kountze said.
The community was confined to three streets, Jerome, Lincoln and part of Arlington. During the pre-civil rights era, these were the only streets in Medford where African-Americans could buy or rent homes.
"Out of this constraint, people created opportunity," Shaw said. "They formed bonds and built a tight community. They looked after each other. If someone was sick, they would take care of them. People watched each other's children. I've heard people describe the community itself as a third parent…they supported each other and the next generation."
West Medford became a virtual collection of African-American "firsts:"
Dugger Park was named for Lt. Col. Edward Dugger, who fought in World War I. It is the first public park in suburban Boston named for an African-American. Dugger's son, Edward "Eddie" Dugger, E41, was a legendary Tufts track star. His daughter, the late Madeline Dugger Andrews, was a pioneer in her own right as the first African-American elected to the Medford School Committee. She is among those whose life Shaw's students are documenting.
Elizabeth Oliver Newton, considered the first African-American businesswoman in Massachusetts, operated a beauty salon on Jerome Street before opening a beauty school in Boston.
A memorial on the corner of Arlington Street and Boston Avenue is dedicated to Harold "Pee Wee" Nelson, the first of 14 from Medford to die in Vietnam.
The fire station on High Street is named for Charles Booker, the first African-American firefighter in Medford.
"We're so pleased that this initiative started in the Afro-American community here in West Medford and is driven by us," said Kountze. "Over the years, the black community has been researched and studied by many, many persons in the academic community. But this is the first time that I can remember that the initiative has been by members of our own community, who have lived their life here."