The hub
Campus Center celebrates 20th anniversary
Twenty years ago, the Medford/Somerville campus had no purpose-built space for students, faculty and administrators to meet and socialize. That all changed with the opening of the Elizabeth van Huysen Mayer Campus Center.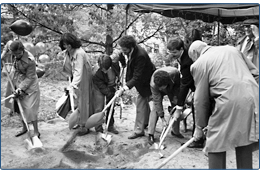 At the 1983 groundbreaking for the Campus Center, from left, Elizabeth van Huysen Mayer with student leaders Mara Glickman, J83; Tony Dennis, A85; Kevin Thurm, A83; Allan Gelber, A84; and Ted Tye, A79, and trustee Paul Wren.
The campus center, named for the wife of former Tufts President Jean Mayer who was actively involved in student life at the university, celebrated its 20th anniversary in February. The $5 million complex opened with much fanfare on February 1, 1985, and was the product of three decades of planning and fund-raising by students, faculty, administrators, parents and friends of the university.
"One source of pride in Tufts," President Mayer said at the time, "is that the faculty likes to know, as well as teach, the students. The campus center will be a place not only where students can fraternize easily with other students and faculty members with colleagues, but also where a faculty member can sit and chat with students on an easy, informal basis."
Seven former presidents of the student senate returned to campus for the dedication, which also featured the awarding of honorary degrees to author John Updike, sculptor Louise Nevelson, Harvard sociologist David Riesman and the Rev. Carl R. Scovel of King's Chapel in Boston.
To build the campus center, the Brown House, which was home to the Experimental College, was demolished, and the provost's house (now the music department) was moved. The idea was to create a center that tied together the uphill and downhill areas of campus.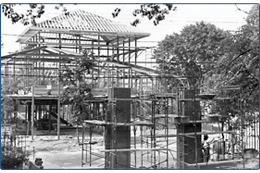 The Mayer Campus Center under construction.
Currently the campus center houses a number of administrative offices, including Student Activities and Fraternity and Sorority Affairs, meeting and conference rooms, a dining hall, the Hotung Café and an outdoor patio.