Facelift
Grand old dorm will undergo exterior work
West Hall, the only dormitory on the academic quad, is slated to receive an exterior facelift, and an unused photography lab will be removed from the basement in time for the start of the 2005-06 academic year.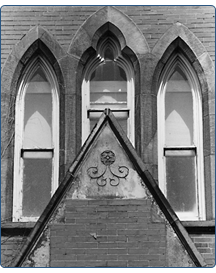 An architectural detail of the venerable West Hall.
The renovations are part of the administration's push to improve the physical appearance of the campus as well as student living spaces. The four-story gothic-style dorm was constructed in 1872, and originally housed students in Tufts' former divinity school on the upper floors, while the ground floor was used for classrooms and a chapel. It currently houses students in 10 double, 14 single, five triple and 11 quad rooms.
Rudi Pizzi, manager of Tufts' deferred maintenance program, said the renovations will help preserve the aging structure. The work will be done by Boston-based Payton Construction, which has done work at Brown University and Simmons College as well as the addition to the Eliot-Pearson Department of Child Development.
The renovations will include replacing the exterior bricks, roofing and work around the windows.