Green U
Year–round Earth Day garners environmental award
by Marjorie Howard
Six years ago, a group of people led by Prof. William Moomaw chose Earth Day to host a conference aimed at putting environmental theory into practice. The forum, "Climate Change and Civil Society," was preceded by six months of activity and discussions among people throughout the university, including the president's office, deans and the facilities department.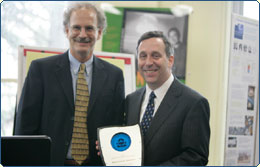 © Melody Ko
The goal of the conference was to meet or beat the requirements of the Kyoto Protocol, the international effort to combat global warming that calls for a 7 percent reduction in greenhouse emissions below 1990 levels by 2012. While the protocol has not been ratified by the United States, many municipalities and other entities have decided on their own to follow the Kyoto recommendations.
For Tufts, that original conference has blossomed into a full-fledged campus-wide endeavor under the auspices of the Tufts Climate Initiative (TCI). In May, those efforts were rewarded when TCI received the U.S. Environmental Protection Agency's 2005 Climate Protection Award. Tufts was one of just 17 award-winners from around the world—and the only university to be honored. The award recognizes "exemplary efforts and achievements in protecting the climate."
Tufts President Lawrence S. Bacow received the award at a ceremony on May 10 at the Lincoln-Filene Center.
Moomaw, professor at the Fletcher School, is now the director of TCI, and Ann Rappaport, lecturer in urban and environmental policy and planning, is co-director. TCI's staff members include Sarah Hammond Creighton and Anja Kollmuss. TCI works closely with the Tufts Facilities Department, and especially with Elizabeth Isenstein, director of energy management.
Leading by example
"This award is about leadership and leading others by example," Sam Silverman, deputy director of the EPA in New England, told the audience at the award ceremony. "You pulled together and put your words into action."
Silverman said the average college student uses at least 15 energy-consuming devices, including stereos and computers, "yet your emissions remain nearly level. It is abundantly clear that Tufts more than holds its own in providing exemplary leadership in the academic community. You are the go-to school in this area for environmental awareness and education."
Silverman said that Tufts "broke new ground" and was the "first school in the United States to meet or beat international targets…The light on the Hill continues to shine brightly. You have lit the way so others can see."
Behavioral changes
Bacow told the audience, "This award recognizes all the people in this room. It represents a series of partnerships that allow us to meet a difficult challenge—wonderful partnerships between faculty and students—readily embraced by Facilities staff and by Buildings and Grounds staff and others responsible for energy use. The improvements are not one-time investments but changes in behavior for all of us responsible for managing the institution."
TCI works in four areas: reduction of CO2, research and monitoring, education, and outreach and events. TCI has helped ensure, for example, that the new dormitory currently under construction, Sophia Gordon Hall, will use solar energy and that renovations on existing buildings incorporate solar panels. Electric vehicles can now be rented by students and are used by staff for mail delivery. TCI also has spearheaded behavior change, teaching students to turn off lights and computer monitors.
Just this April, 88 percent of undergraduate students voted to ask the trustees to raise their fees by $20 a year so that Tufts could buy wind power for a portion of the university's electricity needs, an initiative begun by TCI. The idea will now go before the administration and the Board of Trustees.
Creighton said TCI gets many requests from other universities and referrals from the EPA when people want to know how Tufts carries out its environmental programs. She gave credit to Kollmuss, her co-worker. "Anja is our conscience. She is always saying, 'This isn't far enough.' "
She also gave credit to Isenstein, the energy management director, and noted that more than 1,500 students have worked on projects involving TCI since its inception.