Incubating science
Engineering students tackle biomedical research
by Marjorie Howard
Behind a door along a corridor at Tufts School of Medicine is a small, white incubator that looks like a refrigerator—the type an office might use for storing lunches. But it stands as an example of what a couple of students are capable of achieving, thanks to a new program that combines engineering and biomedical research.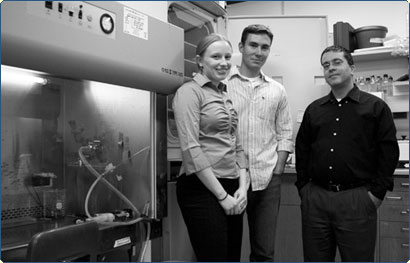 Engineering students Nicole Braun and Andrew Mueller with their medical school mentor, Dr. Orian Shirihai. © JOANIE TOBIN
Inside the incubator is a system the students developed that keeps beta cells bathed in changing glucose concentrations, allowing researchers to observe them over long periods of time. Beta cells produce insulin, and the ability to keep them alive and to be able to transplant them is "a holy grail of diabetes research," according to Dr. Orian Shirihai, assistant professor of pharmacology, whose lab the students worked in.
The students, Nicole Braun, E06, and Andrew Mueller, G08, both mechanical engineering majors, participated in a program called Bringing Engineers into New Disciplines, known as BEND, which enabled engineering students to work in biomedical research last summer. Applications are currently being accepted for next summer's program at http://www.tufts.edu/programs/bend, a website designed by BEND student David Dennis, E07.
Working across disciplines
Braun and Mueller were two of 11 undergraduate and graduate students who worked on obesity and diabetes research. The program was begun by Chris Rogers, professor of mechanical engineering, and Claire Moore, professor of microbiology, who were interested in how engineers might be able to help solve problems biomedical researchers face. They received a grant from the National Institutes of Health, which will fund the program for three years. Moore and Gary Leisk, a full-time lecturer in mechanical engineering, are co-directors of the program.
"We're not providing bioscience courses, but we're showing students how to work in other disciplines," said Jim Vlahakis, a coordinator for the program and a doctoral student in mechanical engineering. "Students are getting the best of both worlds. I'm kind of jealous."
The program draws on two of Tufts' assets, Moore said. The first is a history of successful undergraduate research training in several disciplines. The second is a history of a developing strength in interdisciplinary research.
For Braun and Mueller, the program gave them the opportunity to work with Shirihai, whose lab is studying beta cells outside of the body. In order to do this, the cells need to be bathed alternating concentrations of glucose, just as they are in the body. "A major issue in doing research with beta cells," Shirihai said, "is to keep them in a solution that is constantly being replaced so they are sitting in a stream instead of a pool. The beta cells in our body are always exposed to the alternating glucose concentrations delivered by continuous flow of the blood."
Student ingenuity
Braun and Mueller devised a pumping system that has allowed researchers to monitor the cells over longer periods of time than they could have in the past. "What's unique here," said Shirihai, "is that they created a system that could go for a week. That helps us ask the questions: Is the cell working today and responding to glucose? And will it respond tomorrow and the day after?"
Shirihai praised the students, noting they not only were successful in their project but drew everyone from the lab into the work, "so there's no doubt that Nicole and Andy have some leadership ability inside them. They became an integrated part of the research team. They also presented their work in an international video conference and will probably be invited to Israel for a conference."
The other BEND projects are:
Researchers at Tufts-New England Medical Center are studying the effects of serotonin on the food intake of fruit fly larvae. Serotonin is the neurotransmitter in the brain that regulates mood, emotion, sleep and appetite. Because the fruit fly has similarities to human genes, it is hoped the research can provide insight into human obesity. BEND students Lana Luo, E07, and Clara Robinson, E07, worked to develop an automated system to feed, wash and image 16 fly genetic lines per hour instead of only 50 lines a week. This could significantly shorten the time researchers would need to investigate all 25,000 mutant fly lines. Dr. Alan Kopin, professor of medicine, is the researcher and mentor for the project.
Psychology researchers are studying the behavior of rats in mazes to discover the importance of exercise and diet in the management of diabetes. The researchers are Robin Kanarek, professor of psychology, and Wendy Mathes Foulds, research associate. The students are Andrew Beattie, E05, Michael Chirlin, E06, and Leah Soffer, G06.
Working with researchers in chemical engineering, BEND students are studying adipose tissue, the main storage site for fat deposits in the body. The goal is to find a biopharmaceutical treatment for obesity. Kyongbum Lee, assistant professor, is the researcher, and the students are Ellen Kasson, E06, Mark Schenkel, E07, and Chris Skipper, E07.
Marjorie Howard is a senior writer in Tufts' Office of Publications. She can be reached at marjorie.howard@tufts.edu.