Killing field
1 million people died while the world did nothing
by Marjorie Howard
During a period of 100 days in Rwanda in 1994, nearly one million people were brutally slaughtered during a rampage of one ethnic group against another. The world stood by and did nothing.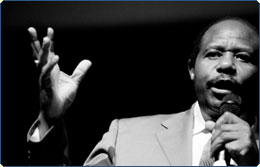 © MELODY KO
The story of the genocide is chronicled in the movie "The Hotel Rwanda," the true story of how one man saved more than 1,000 people who took refuge in the hotel he managed. Paul Rusesabagina cajoled, bribed, pleaded, negotiated and used his instincts to stave off Hutu militia who would have killed those who sought his protection.
On November 15, Rusesabagina spoke to an overflow crowd at Cohen Auditorium as the inaugural speaker in the Merrin Distinguished Lecture Series for 2005­06. The lecture is part of a program called Moral Voices on Genocide, sponsored by Tufts Hillel.
The genocide in Rwanda was rooted in deep animosity between the two ethnic groups that make up the country's population: the Hutu majority and the Tutsi minority. The killing was sparked when the Rwandan president, a Hutu, died after his plane was shot down on April 6, 1994. Within hours, violence spread throughout the country and lasted for the next three months. United Nations peacekeepers did nothing to help, and other countries merely made sure their own nationals were evacuated, abandoning the Tutsis and the moderate Hutus who were being targeted by militant Hutus.
Abandoned to 'thugs and killers'
During his speech Rusesabagina, a Hutu married to a Tutsi, recounted the terrifying events that began, for him, on a night when he dined with relatives, only to be interrupted by a phone call urging him to rush home. He arrived to find the beginning of chaos: Hutu militia had begun going house to house, killing people. Rusesabagina's own son had gone to a neighbor's home and found the entire family slaughtered.
"The whole world, which we had trusted, abandoned us to thugs and killers," Rusesabagina said. While citizens from other countries living in or visiting Rwanda were being evacuated by their governments, nothing was done for those being hunted down and killed.
"People begged, 'Take us with you or they will come and kill us.' We saw even dogs being evacuated, and we were left alone, abandoned. Dead bodies were piled on the road."
Twenty-six people from Rusesabagina's neighborhood showed up at his house, seeking help. He and his family and the other refugees eventually drove to the hotel he managed. There he gave the Hutu soldiers cash from the hotel safe to buy safety for the Tutsis who had gathered at the hotel. Over two and a half months, more than 1,000 people took refuge there, a time Rusesabagina called "a kind of hell."
Bartering for life
At one point, he was awakened by Hutu soldiers pointing a gun at his head, telling him to get everyone outside in 30 minutes. "I started negotiating," he said. "There were militia with guns and machetes waiting for the victims to come out." He used his influence with some Hutu army officers, and one ordered the soldiers to leave.
Later, Hutu soldiers told him and his family they could leave. But the refugees in the hotel told Rusesabagina that if he left, they would all die. "I decided not to go," he told the Tufts audience. "My conscience told me I shouldn't leave these people. I would never be a free man if I left; I would be in a prison. I escorted my wife and children into a UN transport, and it was the most heartbreaking experience of my life. Imagine not knowing where your loved ones were going."
Ultimately, Rusesabagina's family returned to the hotel after the convoy they were in was attacked by Hutus on the way to the airport.
The killing came to an end when a Tutsi-led rebel movement captured Kigali, the Rwandan capital. Rusesabagina and his family returned to their home.
Rusesabagina now lives in Belgium where he is a businessman. He has also begun the Hotel Rwanda Rusesabagina Foundation (http://www.hrrfoundation.org), which provides support and assistance to children orphaned by the genocide. The foundation also strives to help other African nations in conflict, with the goal of preventing other acts of genocide.
Rusesabagina pointed out that the murder of one million people in Rwanda represented 15 percent of the population. "The United States has nearly 300 million people. Can you imagine if 15 percent, or more than 40 million people, were killed, and the international community ran away?
"Late is always late. It is now or never to raise awareness."
Marjorie Howard is a senior writer in Tufts' Office of Publications. She can be reached at marjorie.howard@tufts.edu.