Engineering leaders
Gordon Institute celebrates 20th anniversary
by Marjorie Howard
Bernard M. Gordon is quick to give credit to the engineers at Analogic Corp., the high-tech company from which he recently retired as chairman, for developing some of the products for which the company is famous: the first instant-imaging CT scan and the fetal monitor, for example.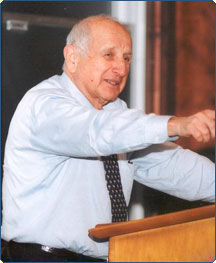 Bernard M. Gordon, founder of the Gordon Institute © Joel Haskell
Although the work of dedicated engineers created these inventions, someone had to direct and motivate the developers, said Gordon, now cofounder and president of Neuro-Logica Corp. of Danvers, Mass.
"The function of an engineering leader," Gordon said, "very often is to take a risk and get others to feel more comfortable about taking a risk and competing."
Gordon made his remarks at a symposium at Tufts on June 21 that marked the 20th anniversary of the Gordon Institute, a program at the School of Engineering that trains students in engineering leadership and management. A Tufts trustee, Gordon founded the institute in 1984, and in 2000, the institute and the School of Engineering created a joint five-year B.S./M.S. in engineering and engineering management degree program. The institute has been awarding M.S. degrees in engineering management since 1991.
Education for the future
Called "Engineering and Engineering Education in the 21st Century," the symposium featured presentations about the future of engineering education, the impact of globalization on technology and how Tufts is preparing for the education of future engineers.
Tufts President Lawrence S. Bacow welcomed the participants by noting, "It's wonderful to be able to celebrate 20 years in the life of the Gordon Institute, especially in the presence of the founding father. The Gordon Institute is an important part of the Tufts mission, which is to train leaders."
Bacow said Tufts has a global focus, expertise in the life sciences and is educating students to be active citizens. "These are strengths of Tufts, and all these strengths are in the School of Engineering."
The university is planning for the construction of a new laboratory building on the Medford/Somerville campus that will integrate biology and engineering, Bacow said, noting that Bernard Gordon has been "in the forefront" of interdisciplinary efforts that meld the life sciences and engineering.
Building bridges
Linda Abriola, dean of the School of Engineering, also spoke of the emphasis on interdisciplinary research at Tufts. "We have strong professional schools with opportunities for interdisciplinary research and education," she said. "One of our aspirations is to achieve an international reputation for educating engineering leaders and to be a leader among our peer engineering schools in building bridges across research."
There were three invited speakers at the symposium: Robert Coutts, an executive vice president at Lockheed Martin Corp. and a member of the Board of Overseers to the School of Engineering; Nelson Dong, vice president of the Washington State China Relations Council and co-chair of the Asian Law Group at the firm of Dorsey and Whitney; and Sherra Kerns, vice president for innovation and research and the F.W. Olin Professor of Electrical Engineering at the Olin College of Engineering.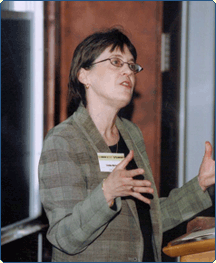 Linda Abriola, dean of the School of Engineering, says one of the school's goals "is to achieve an international reputation for educating engineering leaders." © Joel Haskell
The speakers emphasized the challenges being faced by engineering educators—mainly that other countries are outpacing the United States in the number of students earning engineering degrees each year and that students must be taught not just technical skill, but how to lead and to manage.
Lockheed Martin, Coutts said, is one of the nation's largest employers of people with technical degrees, and this year will add 7,000 people to its workforce. The company hires one out of every 20 students who earn an undergraduate engineering degree in the United States each year.
In addition, he noted, "One of three employees will be retiring or eligible for retirement in five years. Two-thirds of our employees must obtain security clearances, so they must be U.S. citizens. The outsourcing of technical work is not viable for the aerospace and defense industry," he said.
Finding the edge
"There is no question that we produce engineering graduates who are technically proficient, but other countries are doing it in higher numbers," Coutts said. "We must train students in practical applications and in ethics, in business fundamentals and in leadership. Tomorrow's engineers need practical, hands-on experience combined with theory and practice and a view of the professional world they aspire to enter. We should move toward a five-year [undergraduate degree] program and incorporate some of the courses at the Gordon Institute: ethics, how a business enterprise works and leadership, which is not something that can be taught but a quality that can be developed over a period of time."
By teaching these qualities, Coutts said, "we can maintain our qualitative edge, even if we are losing our quantitative edge."
Dong focused on globalization, noting that companies now recruit from countries other than the United States. Jobs are going to Shanghai and Bangalore, he said, because the costs are lower; there is a strong supply of qualified scientists and engineers; and work can be done in close proximity to suppliers and customers.
Faster transportation, improved telecommunications, the ability to share publications and belong to professional societies from around the world have all increased globalization, he said.
Kerns, president of the American Society for Engineering Education, said the role of education is not just to "fill students up with facts" but to give them "confidence…and the ability to evaluate new concepts and to learn how to learn."
She cited what she said should be the attributes of engineers in the future: strong analytical skills, the ability to communicate, the willingness to be lifelong learners, the ability to be adaptive leaders and to be agile, resilient and flexible.
Kerns praised Bernard Gordon, saying he has "not been a number cruncher" but has "the qualities of creativity and enterprise" that should be fostered in future engineering students.