Defining peace
In war-torn nations, people put jobs and education ahead of physical security
People in war-torn societies view peace and security in vastly different ways than the military and aid workers who are stationed in those countries, according to a new study by researchers at the Feinstein International Famine Center at Tufts.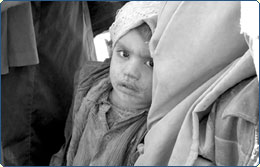 Two decades of civil war, drought and political instability put millions of Afghans at risk, even before 9/11. © Sue Lautze
Local people within such settings identified jobs and education as a priority, in contrast to international military and humanitarian personnel, who put protection from physical harm at the top of their own wish lists, according to the study, "Mapping the Security Environment: Understanding the Perception of Local Communities, Peace Support Operations and Assistance Agencies."
The study highlights the need for moving more quickly beyond physical security to provide a range of social benefits if the gains of peace are to be consolidated.
"This report sends a warning to donors: Short-term investments in keeping the lid on through military presence and keeping the wolf from the door through stop-gap economic aid need to give way to the serious pursuit of a wider human security agenda if durable peace is to become a reality," said Larry Minear, director of the Humanitarianism and War Project at Tufts.
The report contrasted the views of local people with those of military and aid personnel serving in Afghanistan, Kosovo and Sierra Leone. The opinions were drawn from interviews with 350 people earlier this year, including military and aid personnel; tribal elders, destitute widows and university students in Afghanistan; ethnic Serbs and Albanians from four cities in Kosovo; and war-wounded and civil society representatives in Sierra Leone.
The study found marked differences between the views of each of the three groups, and also within each group. For example, while all the military personnel interviewed were concerned about security, the American contingent serving in Afghanistan took a much more restricted approach to engaging the local population than did troops from other countries, which sought security, in part, through such engagement. On the aid side, some agencies sought security by "blending in" with the local population, while others maintained their distance.
Attitudes also evolved over time. As conflicts receded, local people moved quickly beyond their need for protection from violence to articulate a wider range of needs, including employment, health care and education. "Peace is jobs and electricity," said an illiterate shopkeeper in Kabul.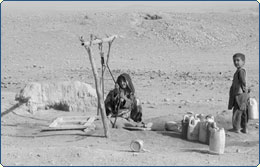 A woman and her son fetch water in Afghanistan. "Peace is jobs and electricity," an illiterate shopkeeper in Kabul told the Tufts researchers. © Sue Lautze
"There seems to be a major disconnect in how outsiders and local people look at security issues," said Antonio Donini, a senior researcher at the Famine Center who led the research in Afghanistan. "If aid agencies and peacekeepers want to be more effective, they should spend more time listening to what communities have to say."
Other members of the research team were Ian Smillie, a Canadian consultant based in Ottawa; Anthony C. Welch, a former British military officer; and Ted van Baarda, an instructor in ethics of the Netherlands Armed Forces. The report was commissioned by the United Kingdom Non-Governmental Organization/Military Contact Group and was funded by the U.K. Department for International Development.