Matriculation
President issues call to citizenship to Class of 2008 undergraduates
by Helene Ragovin
President Lawrence S. Bacow extended a warm welcome—and an election-year challenge—to the Class of '08 at matriculation ceremonies on September 1.
"One of the great traditions that we embrace at Tufts is active citizenship," Bacow told the 1,279 first-year students who assembled, along with their families and friends, in front of Bendetson Hall.
"One of the first responsibilities of an active citizen is to vote. So, Class of 2008, get ready for your first homework assignment…each of you who is eligible to vote is expected, or perhaps I should say required, to participate in the upcoming election on November 2," Bacow said, explaining that students could register or request absentee ballots through the website of the University College of Citizenship and Public Service.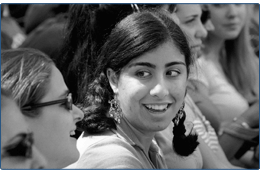 © Mark Morelli
And, Bacow added, "If you have any second thoughts about voting, let me remind you that some of your contemporaries will not enjoy the luxury of spending November 2 on a college campus. I speak, of course, of the men and women serving in the armed services in places like Afghanistan and Iraq…you honor their service by participating in this most important obligation of citizenship in a democracy."
Matriculation marks the traditional beginning of the academic year, and as Bacow spoke, a few yellow-tinged leaves drifted down from the trees to land at the foot of the stage, heralding the approach of a New England autumn. The young men and women who filled the quad are among the most accomplished to ever arrive on the Hill. The students who began their Tufts careers that day were selected from an applicant pool of 14,728, a university record for application activity.
Members of the Class of '08 represent 46 states and 34 countries and have pursued diverse interests. One is an all-state fiddle-player from Wyoming; another made a documentary about Chicago kids who use plastic buckets as musical instruments. Another is ranked number three in the country in amateur jump-roping. Slightly more than half graduated in 95th percentile of their high school class.
"You are entering college at an extraordinary time in history," Bacow said. "Every new advance in science and technology holds great promise but also seems to pose new challenges for society.
"This is a particularly good place for you to prepare yourself to help the world address these challenges," he said. "Society's most important problems do not respect disciplinary boundaries. If you are going to participate in public debate as a knowledgeable citizen, you must have a good grasp of multiple ways of knowing.
"If I were to give you any advice about what to study while at Tufts, it would be to play to your weakness, not to your strength…you may surprise yourself by discovering your passion in a place where you did not expect to find it. If so, have the courage to pursue your passion wherever it leads you. I guarantee that you will not be disappointed."
A similar sentiment was expressed by Susan Ernst, dean of the School of Arts and Sciences. "When you recognize that you don't know something is when you are most open to learn," she said. "Trust me. You have intellectual resources you don't know you have."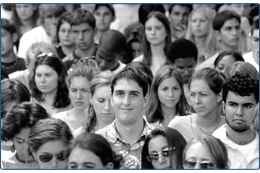 © Mark Morelli
The class was also greeted by Ann Palmieri, J78, president of the Tufts University Alumni Association and a third-generation Jumbo. "We in the Tufts family want you to succeed," she said, letting the students know that alumni are eager to offer networking and career counseling assistance.
For the first time in 16 years, the entering class is evenly balanced between men and women, according to Lee Coffin, dean of undergraduate admissions. Almost a quarter of the class (24 percent) identify themselves as students of color: 10 percent Asian-American, 8 percent African-American and 7 percent Latino or Hispanic. The class represents at least 16 different faiths, with 21 percent identifying themselves as Jewish, another 21 percent as Roman Catholic and 18 percent as Protestant.
Diversity of thought is another feature that the new students will find at Tufts, Bacow said. "Tufts is not a cocoon. We recognize and embrace free speech," he said. "We would not be preparing you well for the world you will inhabit if we isolated you from the gritty reality of dealing with people who see the world through very different eyes than you.
"One reason you are here is to be exposed to different opinions, different cultures and different backgrounds," the president said. "Treat each such encounter as a learning experience, and you will get the most out of the next four years."