Learning by doing
Summer Scholars soak up research experiences across the university
by Marjorie Howard and Helene Ragovin
When Odysseus set sail for Troy, he chose his friend, Mentor, to teach and advise his son, Telemachus, in his absence. Mentor came to mean a trusted counselor or guide.
During the summer, 31 faculty members from throughout the university served as mentors to undergraduates on a kaleidoscope of interests: industry in early Italy; cognitive processes in pigeons; the molecular genetics of heart chamber formation; death and meaning in Samuel Beckett.
The work was done through the Summer Scholars program, which provides funding for undergraduates to pursue research with the guidance and advice of a faculty member. For some students, the work was a chance to get a jump start on a senior thesis; for others it was an opportunity to work on a project without the distractions of the school year. Professors and students learned together and together shared the excitement of discovery.
The program, now in its second year, pairs scholars and mentors in projects that range across all of Tufts' campuses. An outgrowth of the Task Force on the Undergraduate Experience, the Summer Scholars program demonstrates that Tufts offers the undergraduate learning experience of a small liberal arts college with the advantages of a major research university.
Here is a sampling of the projects:
The chemical life of snails
Consider the stolid, solid snail, in this case a marine snail known as a slipper limpet. Once it becomes an adult, the snail cannot move, so the best chance to control where it will permanently live is at the beginning of its life, when it is an active, swimming, microscopic larva. At some point, the larva undergoes metamorphosis and changes into an adult living in a craggy-looking shell. But what causes that change? What chemical in the environment tells the larva to stop swimming and settle down?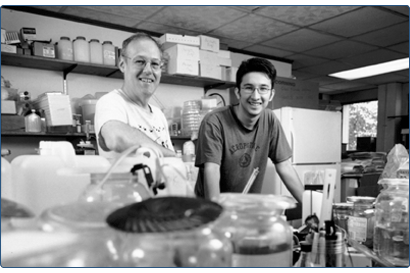 Jeremy Setton, A06, who is majoring in biochemistry, has been working on this scientific puzzle with Jan Pechenik, professor of biology, for the last year. The snail, whose formal name is Crepidula fornicata, is found on the East Coast of the United States but has made its way to England, France, Asia and Scandinavia, most likely in ship ballast water and in oyster shipments. In Brittany, it has seriously damaged the oyster industry because the snail permanently attaches itself to oysters, making them unfit for harvesting.
As a Summer Scholar, Setton has been able to take the next step in understanding more about the process of metamorphosis in this particular snail.
"It's really difficult to try to do research during the school year when you have tests and papers, so being able to focus on this has been wonderful," Setton said of his summer research experience.
So far, Setton and Pechenik know that the adult snails release a chemical that encourages larvae to stop swimming and metamorphose. They were able to filter sea water that the adults live in and separate out the components of the water. The next step, they said, will be done in collaboration with the lab of Jonathan E. Kenny, professor of chemistry, to try to isolate and identify the chemical that brings about metamorphosis.
After he graduates, Setton said, he will pursue either medical school or graduate school. "Either way," he said, "research will continue to be a big part of my life."
Heading off ADHD
Lab work opens horizons beyond the classroom; Summer Scholar Leandra Godoy, A05, has taken that idea a step further with an internship that mixes basic research with real-world experience.
Godoy is working with Jannette McMenamy, assistant professor of pediatrics at the Center for Children with Special Needs at the Floating Hospital for Children, on an intervention project for children ages 18 to 36 months who may be at risk for Attention Deficit Hyperactivity Disorder (ADHD). The pilot study, funded by the National Institute of Mental Health, is being conducted with patients from a large Massachusetts pediatric practice; among Godoy's tasks are helping with data collection and recruiting parents to participate.
The parents complete a questionnaire that identifies behavioral problems, including aggression and hyperactivity. These problems indicate that children are at increased risk for ADHD. Those whose children score high are then divided into three groups: a control group; a group that receives information on effective parenting methods and a group that receives information and support through a 10-week class. The children are then followed over a six-month period.
"This has given me the opportunity to really see what research is like in the field," said Godoy, who wants to pursue a career in clinical psychology. Her work at the Floating Hospital has convinced her that she "wants to continue to do research in some way."
"Students need to be active learners, and there is so much a student can learn in an applied context, either clinical or research, that extends beyond a classroom or a textbook," said McMenamy, who is also a lecturer in the Eliot-Pearson Department of Child Development.
"It also extends to probably one of the most meaningful lessons in research: How do you balance what you know is the best research design with what you can do in the real world?" she said.
"Our project is an intervention. So much work and time is spent not only thinking about the ideal research design, but also about the most feasible, ethical and responsible ways of working with real children and real families. We are concerned not only with findings, but also with making a real difference in people's lives."
Shed no tears
Last March, Elizabeth Macari, A05, had never heard of Sjögren's syndrome. By June, she was contributing to a research project that seeks to unravel the mysteries behind this autoimmune disease.
"When I first saw the posting [on the Summer Scholars website], I said, 'what's that?' " said Macari. But after speaking with Driss Zoukhri, assistant professor at the School of Dental Medicine, and reading one of his papers on the subject, Macari was eager to work in his lab. Zoukhri, who also holds appointments in ophthalmology and neuroscience at the School of Medicine, has a $1.78 million National Eye Institute grant to study Sjögren's, an autoimmune disorder whose primary symptoms are extreme dry eye and dry mouth.
"We're trying to understand how tear production and saliva production are being shut down," Zoukhri said. "What we're looking at, basically, are intracellular mediators that might be involved. Once we define those mediators, we can get some inhibitors to block the action of those mediators and then see what effect it has on tear and saliva production."
Macari, a biochemistry major, had previously interned in the research and development department of a consumer-products company, investigating ways to improve products like cosmetics and soap. She was drawn to Summer Scholars, she said, "because I wanted to see what actual research is like, and I wanted to tie in my academic interests."
Although Macari had not yet taken a molecular biology lab course when she started her Summer Scholar internship, Zoukhri and his assistant, Claire Kublin, taught her what she needed to know. "I'm amazed at how quickly she got into the lab and got all the techniques." Zoukhri said. "It's pleasing to see young people loving basic science."
For her part, Macari said she's been "pampered" by the one-on-one lab training she's received. "Dr. Zoukhri really personifies the word 'mentor,' " she says.
Science and conflict of interest
Sheldon Krimsky has been studying conflict of interest by scientists who publish articles about research in which they have a financial stake. Now he has turned his attention to the Diagnostic and Statistical Manual of Mental Disorders, better known as DSM4, a publication of the American Psychiatric Association that he describes as "the canon" for psychiatric treatment.
The DSM4 is used to classify mental disorders and patients for the purposes of hospitalization, treatment and insurance. It lists drugs to be used for a wide range of mental problems. "There is no transparency as to how the recommendations are made as to what drugs should be used," said Krimsky, professor of urban and environmental policy and planning. "Obviously a pharmaceutical company wants its drug listed, so there is great potential for conflict of interest."
Working with Nadine Mower, A06, who is majoring in psychology, Krimsky is developing a methodology to quantify conflicts of interest in the DSM4, something, he says, has never been done.
Krimsky said there are a variety of ways to get objective information, including finding out whether the more than 100 members of the panels that make the recommendations have equity in pharmaceutical companies, have a patent on a product, have been paid as expert witnesses about a product, have received honoraria from a pharmaceutical company or have been funded by a drug company to do research.
Krimsky is still working on his analysis and said, "The question is not whether there is conflict of interest, but what form it takes and whether there are diagnostic categories that are more likely to be affected." He said he was pleased to work with a student studying clinical psychology "because she understands the importance of the work."
The state of arts education
Josh Hyman, A05, is majoring in quantitative economics with a minor in music. He studies piano in the Department of Music and sings in the a cappella group Shir Appeal. So when he and Thomas Downes, associate professor of economics, began talking about a senior thesis, they found a subject that combines both of Hyman's interests as well as work done by Downes, who studies the economics of education.
During the summer, Hyman began investigating how the recent emphasis on standardized testing is affecting arts education, a project he will continue working on this fall. Hyman and Downes say that with more resources going into subjects in which children are tested, less money may be available for the arts.
"This is an outgrowth of a growing body of literature asking what are the effects of toughened standards, such as the No Child Left Behind act, which is the centerpiece of President Bush's educational policy," said Downes. "The expectation is that there will be improved performance in areas that are tested and that resources are being shifted from areas that aren't being tested, such as the arts. So the question is does an increased focus on math, science and reading affect the quality of arts education in the United States?"
Because states are at different junctures in their compliance with No Child Left Behind, Hyman is compiling statistics from a variety of sources. In one case, he is reviewing information from surveys of principals and teachers about how the arts were taught in 1997 and later, after the implementation of No Child Left Behind. The effects of recent budget cuts in many communities across the country will have to be taken into consideration.
While researchers have been examining how standardized testing is affecting schools in a variety of ways, no one has yet looked at arts education, said Downes, "so we are carving out new ground."
Ground-breaking work in cognition
"Nobody really grows up saying, 'I want to be someone who investigates cognition in pigeons,' " jokes Daniel Brooks, A05.
Nevertheless, here he is in the psychology lab of Prof. Robert Cook, studying whether pigeons can recognize musical chords. It's part of Cook's work into the biological origins of music perception—a field of investigation that could yield insight into both avian and human cognition.
This project is not new to Brooks, a psychology major. He has been working in Cook's lab since he was a sophomore. But as a Summer Scholar, Brooks had the opportunity to work in the lab full time over the summer.
"During school, you have a lot of other stuff going on. Sometimes you can only grab 15 minutes in the lab," Brooks said. "With Summer Scholars, you're allowed to concentrate, continue your work on a more intensive level. You have time to sit and think about question."
Cook's research on avian cognition, Brooks said, "asks important questions about memory and perception." Having a chance to work with his mentor in the lab adds an element that can't be replicated in the classroom, he says.
"My thinking has evolved from what I've learned in the lab, from talking with Dr. Cook and the graduate students, even with the other undergrads."
"In class, we present material to which we already know the answers," Cook said. "In research, we're working with active problems, finding the answers. It's a really valuable educational dynamic—continuous as opposed to static."
Brooks hopes to use his lab work as the basis for a senior thesis. Last summer, Cook mentored another Summer Scholar who went on to write a thesis that since has been submitted for publication in a top-tier journal, he said. "With Dan, also, I see no problem with publishing his work in the future. He's producing ground-breaking material."
Yuck! It's a bug
What happens if you offer a child a drink with a bug floating around in it? Will the child be disgusted and refuse to drink? Or will the child not care and happily drink away?
Nirit Gradwohl, a senior psychology major, spent the summer working with Donna Mumme, assistant professor of psychology, on a project to help learn what children understand about disgust and contamination. According to current literature, Mumme said, children seem to confuse disgust with anger until they are five or six.
Working with four- and five-year-olds, Gradwohl met with children individually and offered them a drink of juice or water during a snack break. The pitcher with juice contained a large, fake cockroach. Gradwohl either noticed the bug and said nothing, reacted strongly or remained neutral.
After meeting with 15 children, the conclusions are still being drawn. When Gradwhol was neutral, children chose water over juice. When she reacted strongly to the cockroach, the children reacted strongly, though not necessarily with disgust. Some kids noticed the bug on their own, screamed and said to pour the juice anyway.
Mumme said she also wants to look at the idea of contamination and what social influences make a difference in terms of how children react to, say, a cookie that has fallen on the floor.
Gradwohl will continue doing research on the subject for her senior honors thesis. "What's great about Summer Scholars is we could get things up and running and get a head start," she said.