Well written
Medical magazine wins AAMC award
Tufts Medicine, the alumni magazine for the School of Medicine and the Sackler School of Graduate Biomedical Sciences, has won a top writing award in a national competition sponsored by the Association of American Medical Colleges/Group on Institutional Advancement (AAMC/GIA).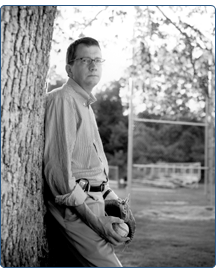 © Kathleen Dooher
Editor Bruce Morgan's cover story on Dr. Mark Link's study of commotio cordis ("When the heart stops cold," Summer 2003) received an Award of Excellence in the category of the Robert G. Fenley Writing Awards: Basic Science Staff Writing. Link, a cardiologist, is a 1986 graduate of the medical school and an assistant professor and co-director of the Cardiac Electrophysiology and Pacemaker Lab at Tufts-New England Medical Center, the medical school's principal teaching hospital. In commotio cordis, the heart stops as a result of low-energy trauma to the chest wall.
The medical magazine has won three times before in the Fenley category—two Awards of Distinction and one Award of Excellence—in the general writing category. This is the first prize the magazine has earned in science writing.
The AAMC/GIA judges publications and other work produced by the nation's 126 medical schools. The award will be presented at the organization's annual meeting in Boston on November 6.