Lab medicine
Nation's first tissue engineering center is right here
by Marjorie Howard
Someday, a patient with bone cancer facing amputation will be able to have the diseased bone removed and replaced with material generated in a laboratory. Or someone who breaks a leg will be up and about in a short time, thanks to the same material that can also be used to help the fracture heal quickly.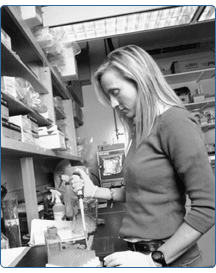 Sheila Logan, a graduate student in biotechnology engineering, is one of many Tufts students conducting research in the new tissue engineering center. © Mark Morelli
Sound far fetched? Not necessarily. Scientists at Tufts are working on developing tissue that can replace bone or cartilage and are doing research on other projects aimed at developing materials that can repair tissue.
To integrate tissue research taking place across the university, Tufts has established a new center that will enable scientists from the schools of Engineering, Arts and Sciences, Medicine, Dental Medicine and Veterinary Medicine to coordinate their efforts.
The Tissue Engineering Resource Center, located on the Medford/Somerville campus, is being funded with a $4 million grant from the National Institutes of Biomedical Instrumentation and Bioengineering, a division of the National Institutes of Health. The tissue engineering center is the only one of its kind in the United States, according to David Kaplan, director of the new center.
"We've created this center to meet the demand caused by the widening gap between clinical needs and available replacement tissues and organs," said Kaplan, chair of biomedical engineering at the School of Engineering and professor of chemical and biological engineering.
The center is based at the Science and Technology Center at 4 Colby Street and includes researchers not only from Tufts but also from the Massachusetts Institute of Technology's Division of Health Sciences and Technology, led by MIT's Gordana Vunjak-Novakovic, who has an adjunct appointment at Tufts School of Engineering.
Revolutionary treatments
Tufts researchers are focusing on two areas: They are studying and designing ways to create biomaterial scaffolds that help human bone marrow adult stem cells grow into new tissue, and they are building bioreactors, the apparatus for growing the cells and tissue that will become the products for both clinical and research use.
Some of the work already accomplished could revolutionize the way patients are treated. Greg Altman, A97, G02, is the president and founder of Tissue Regeneration Inc., which has developed a method to repair the anterior cruciate ligament in the knee as well as the rotator cuff in the shoulder by using silk threads to reconnect torn tissue. Ligament or tendon tissue will grow around the silk strands, which will biodegrade and no longer remain in the body. Altman, who will be involved in the new center, expects to initiate trials in humans by the end of 2006.
Last year, Kaplan and a former postdoctoral student, Hyoung-Joon Jin, published a paper in the journal Nature in which they reported that spiders and silkworms are able to spin webs and cocoons made of incredibly strong fibers because of the way they control the water content in those fibers. This finding could lead to the development of new processing methods to create high-strength and high-performance materials for biomedical applications.
Kaplan said the better the job researchers do in the laboratory in terms of growing functional tissues, the more they will be able to use these engineered materials to study disease formation. This would lessen researchers' reliance on animals in testing new products and lead to improved therapies.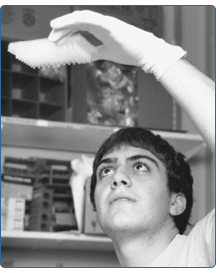 Chemical engineering student Nick Blasioli, E05, at work in the tissue engineering center. © Mark Morelli
A current key project is to ask fundamental questions about how a cell "reads" a surface, said Kaplan. "Cells have to stick to a surface in order to grow and form tissue structures," he said. "How important is that surface to which the cells adhere? The nature of that material surface has a huge impact on tissue outcome. Additional areas of focus include addressing how bioreactor vessels that feed and help cells function can be improved." Kaplan said researchers are also working on new ways to visualize cells and tissues as they are growing in the laboratory to better understand the progression of tissue structure and function.
University-wide ventures
The new center will not only involve faculty, but bring in postdoctoral students, as well as graduate and undergraduate students. In addition, the center will work with the Tufts Center for Engineering Educational Outreach to find a way to translate its work in ways that can be used to teach children in lower grades about what engineers do and how they work--with a focus on tissue engineering.
In addition to Kaplan, other Tufts faculty members are involved in the center, either performing collaborative research or serving on an advisory board. They include Jake Chen, professor and director of the Division of Oral Biology at the School of Dental Medicine; James Dice, professor of physiology at the School of Medicine; Aurelie Edwards, associate research professor of chemical engineering; Sergio Fantini, associate professor of biomedical engineering; Carl Kirker-Head, associate professor of clinical sciences at the School of Veterinary Medicine; Kyongbum Lee, assistant professor of chemical engineering; Chris Rogers, professor of mechanical engineering; and James Schwob, professor of anatomy at the Sackler School of Graduate Biomedical Sciences.
Jamshed Bharucha, provost and senior vice president, said the center will "help stimulate new economic growth by filling an important niche for start-up companies looking for support as they move their technologies to the next level. Tufts is proud to be part of this growing field."