One more bite
Variety is the spice of obesity
In the 1930s, the typical American grocery store stocked about 800 items. Now, supermarkets carry a dizzying array of more than 35,000 products. While having choices is nice, a Tufts expert says the country's expanded menu may be contributing to an epidemic of obesity around the world.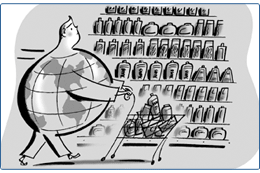 © Steven Salerno
Studies dating back to the 1960s have shown that variety can increase caloric consumption an average of 25 percent, according to Megan McCrory, an assistant professor at the Friedman School of Nutrition Science and Policy. McCrory reports that varied food offerings interest the body in eating, even when it's full.
A perfect example is "in restaurants when you're really stuffed to the brim, and you just can't eat another bite," McCrory recently told the Associated Press. "Then the waiter brings around the dessert cart. There's always room for dessert."
Sensory–specific satiety—a mental process that makes food taste better at first, then progressively less interesting—may be to blame for the phenomenon. Switching to a new food, even when a person is full, can make eating appealing again. "There's so much variety that especially when the variety tastes really good, we're more apt to go ahead and eat it," McCrory said.
Companies have long been wise to this fact, offering many options in their product lines. With 150 different chips offered by Frito Lay, 400 different drinks produced by Coca-Cola and 170 soups made by Campbell's, who can resist reaching for another bite?
The problem is international, McCrory notes. As food variety grows worldwide, so too does the global obesity epidemic. In the past 15 years, American exports of snack foods have quadrupled to more than $1.5 billion in 2003, according to the U.S. Department of Commerce.