Coffee break
Tower Café is the new gathering place on campus
by Marjorie Howard
The inviting aroma of coffee greets you from the hallway that leads into the new Tower Café at Tisch Library. Open the double doors, and there is the low bubble of quiet conversation along with scenes of students quietly studying, working on their laptops or listening to music with headphones.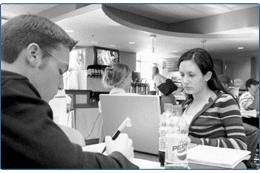 Jordan Axelrad and Leandra Elberger are able to work—and chat—in the new Tower Café. © Mark Morelli
The Medford/Somerville campus has a new place to take a break, study, meet with friends or professors or simply have a cup of coffee. The Tower Café opened at the library in October and has quickly caught on.
"We both wanted to study, and we like to talk sometimes," said Leandra Elberger, a freshman from Rockville Center, N.Y., who was studying with a friend on an early October afternoon. "We don't want to bother anyone, and it's very quiet in the rest of the library, so even if you make any small sound you feel guilty."
Just behind Elberger and her friend, freshman Jordan Axelrad, was a group of students waiting for Dr. Leon Kass, the chairman of President Bush's Council on Bioethics. Kass was slated to speak later that day as part of a lecture series, but beforehand, he joined students in the café for an informal discussion. Nearby was a shelf labeled "Tower Café Leisure Reading," which included such authors as Amy Tan and William Styron and a magazine rack that included the New Yorker and Scientific American.
Students lounged on sofas covered in the warm colors of deep red, blue and gold and ate at small, round tables. Some pulled chairs up to the tall windows that allow natural light to stream in.
James Glaser, dean for undergraduate education, said the range of activities at the café "is exactly what we had in mind. I'm thrilled to see professors meeting with students, people working hard and others chatting quietly."
The idea for a centrally located café was a recommendation of the president's Task Force on the Undergraduate Experience on which Glaser served. It is located in the Dranetz Tower on the first floor of the library and is contiguous to the reading room. Café hours are Sunday through Thursday from noon to 1 a.m. and Friday and Saturday from noon to 7 p.m. Among the offerings are sandwiches, bagels, yogurt, tea breads and cookies as well as a variety of coffees and teas.