Sustainable agriculture

Veterinary school aims to preserve farming in New England

Almost half of the dairy farmers in New England have gone out of business over the last decade due to dropping milk prices and rising operating costs. With the disappearance of those farms comes the loss of jobs and open space.

A federal grant awarded to the School of Veterinary Medicine may help turn the tide.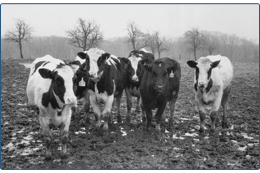 © Mark Morelli
With funding from the U.S. Department of Agriculture, Tufts will undertake two initiatives to help preserve New England's family farms, improve farm animal welfare and enhance environmental stewardship of farmland. By raising higher-value niche products for local consumers who care how their food is produced, regional farmers should be able to earn a sufficient living to keep their farms.
Faculty and staff at Tufts' 250-acre farm on the Grafton campus and at Tufts' Ambulatory Clinic in Woodstock, Conn., will collaborate on these programs.
In one initiative, Tufts will model alternative agricultural practices to demonstrate how farmers can raise and market eggs from free-range Araucana chickens and meat from free-range male dairy calves. Tufts also will also develop a pilot practice to help farmers better manage their crop and pasture land through environmentally friendly composting and manure-handling techniques.
The other new initiative will enable Tufts to protect its Grafton farmland through a new land-use management plan. Tufts will conduct this environmental stewardship program with assistance from the USDA's Natural Resources Conservation Service and the University of Massachusetts' Cooperative Extension Service.
These sustainable agriculture programs are being spearheaded by Dr. George Saperstein, professor of environmental and population health, Dr. Karl Andrutis, assistant professor of environmental and population health, and Associate Dean Joe McManus.