A star is born
Endodontist meets up with Dirty Harry
by Janet Walzer
It's not everyone who can vouch for the color of Clint Eastwood's eyes. Nor can many say they've been the recipient of Sean Penn's glare. But more important, who among us ever makes it to the silver screen, appearing in what critics are calling one of the best movies of the year?
The person who experienced all this also happens to be a dedicated teacher and faculty member in the endodontics department at the School of Dental Medicine, Dr. Charles Rankin.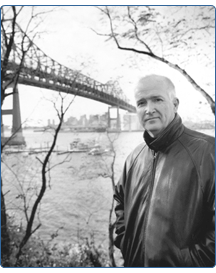 © Mark Morelli
Rankin, who is an extra in the movie "Mystic River," is a self-described ham who is "always looking for something different" to do. About 16 months ago, his assistant, who has been involved in community theater, told him about a casting call that was taking place one Saturday. Rankin's response: "Have fun, hope you get in."
But come that Saturday, it was Rankin who was driving to Dorchester, Mass., and standing in line with more than 2,000 other wanna-be extras. A wait of three hours did not bother him: "It was a sunny day, and there were plenty of people to talk to." When Rankin finally got to the head of the line, someone took a Polaroid of him and then delivered that sobering line: "Don't call us, we'll call you."
A month later, Rankin did get the call, and 48 hours after that, on another Saturday, he drove to an industrial park in Canton, Mass. After filling out a history form and following the "wardrobe lady's" order to change his shirt, Rankin bumps into Mr. Dirty Harry himself, "Mystic River's" director, Clint Eastwood, who mutters: "It's cold up here." Rankin replies: "You're right, it's cold. We're in New England." It is during this meteorological exchange that Rankin notes the director's eyes: "I don't usually notice men's eyes. My wife's eyes are really blue. She's Norwegian. Clint's eyes are drop-dead blue."
Rankin couldn't revel in his moment with the big star too long as the make-up and hairstyling people brought him back to earth quickly: "The top of your head is too shiny," Rankin was told, and a big powder puff was applied to his balding head. That indignity proved well worth it an hour later when Rankin was summoned to the sound stage, where he walked inside a typical three-decker house found in East Boston—only this three-decker had been built in a warehouse.
It was finally time for this dentist to receive his first stage direction, which was concise: "You're one of the neighbors at a wake. You need to look glum." Rankin was filmed in three separate scenes, and by the third scene, he admits to some "self directing."
Dr. Charles Rankin, which for the time being is also his stage name, can be seen in "Mystic River's" wake scene, wearing a black shirt and exhibiting a non-shiny head. He is standing next to the Academy Award-winning actress Marcia Gay Harden, who has just tapped him on the shoulder. Following the stage direction to a tee, he looks appropriately sympathetic.
Besides the thrill of seeing himself in the movie, Rankin received $63.34 for his services and a signed photograph of Clint Eastwood in the mail.