Read all about it
Bacows mark Children's Book Week
President Lawrence S. Bacow and Adele Fleet Bacow helped elementary school children celebrate national Children's Book Week by reading to them at Tisch Library on November 20.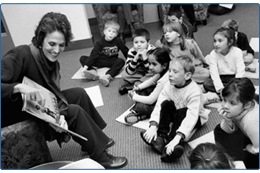 © Mark Morelli
First graders from the Columbus Elementary School in Medford and the West Somerville Neighborhood School toured the library, and then the Bacows read to them. Each student received a book, purchased from the Best Sellers Cafe in Medford Square.
"Free to Read" was the theme for the 84th observance of the Children's Book Council's Children's Book Week, which encourages children and the adults who care for them to spend some time with a book each day.
Since 1919, educators, librarians, booksellers and families have celebrated Children's Book Week during the week before Thanksgiving.