Water, water everywhere
Six-school collaboration fuels new graduate program
by Marjorie Howard
It's a bright, cold, winter day, and sun streams into a conference room at the School of Veterinary Medicine in Grafton. Some 20 people from six different Tufts schools—physicians, engineers, veterinarians, professors, researchers, clinicians, a priest—are seated around a long table. An easel is at the front of the room, and pages are filled with scrawls, arrows, ideas. The members of the group have taken a day from their busy schedules to talk about one topic: water.
The room crackles as ideas are traded back and forth: How is climate change affecting water supply? Does the incidence of water-borne disease increase after a heavy rain that overflows sewers and contaminates surface water? Can sensors be developed to determine if a water supply system has been tampered with? Why do the major religions have so many rituals involving water such as baptism or the ritual bath used in Judaism? How can countries on the opposite side of the same river resolve their conflicts and share water?
The group comprises the faculty for a new interdisciplinary graduate degree program called Water: Systems, Science and Society (WSSS) that will start in the fall with some 30 students. The program is a partnership among six schools and grew out of a challenge issued by President Lawrence S. Bacow to the Graduate Education Council two years ago. Bacow asked the newly created group to come up with a program that would unite the three Tufts campuses. He asked members to find a common interest that could be studied from different perspectives and bring a multidisciplinary approach to research.
E-mails and electricity
The idea to study water came from Beatrice Rogers, academic dean and professor at the Friedman School of Nutrition Science and Policy. She knew that Paul Kirshen, research professor of civil and environmental engineering, studied water, so she gave him a call, and they set up a meeting.
"We e-mailed everyone we knew at Tufts who studied water in some regard and told them to bring their friends," Rogers recalled. "Some 25 people showed up at our first meeting, and the electricity was amazing. There was enormous energy and people throwing ideas out and jumping up and adding things on the board."
What Rogers and Kirshen discovered was that they had chosen a topic that could unite people who study climate change with those who are learning about famine in Africa, with engineers who study hydrology and veterinarians who study animal health. Religion, agriculture, household behavior, medicine, international relations—all can involve the study of water through their own particular prisms.
"Water is fundamental to our survival as human beings," said Kirshen, who is co-director of WSSS with Rogers. "Water also has a very important spiritual role in peoples' lives as well as in the major religions. People want to be around water. It's prime real estate. They are drawn to water around the world."
Early on the group made the decision that the program would not create a new Ph.D. program. Instead, students will earn a doctoral or master's degree in an already-existing graduate degree program but specialize in water. The hope is that the students will then become part of a new community of water specialists at Tufts and participate in seminars, workshops, internships and research. In addition to fulfilling the requirements of their department's doctoral or master's degree programs, students will be required to take such core courses as water resources planning and policy; the biological aspects of water, health and nutrition, systems analysis and water science. Graduates of the program are expected to work for the government, do academic research, become consultants or work for nonprofit organizations. Undergraduates will participate by taking courses and seminars and becoming involved in water research.
Timely and interdisciplinary
The core courses were created in part because of the need to become conversant with key subject matter, Kirshen said. "One of the biggest challenges in interdisciplinary research is to speak the same language and see each other's point of view and basic techniques. We thought the core courses would help."
"It's an extraordinary program," said Provost Jamshed Bharucha, who was instrumental in helping to develop the program. "It really is a subject that is truly interdisciplinary and timely because water is a limited resource."
Bharucha said there is a nationwide trend at research universities to bring together faculty from diverse disciplines to work on one issue. "Our strategy at Tufts is to take advantage of our modest scale as a small research university to encourage faculty to work across school boundaries. I think that while individual disciplines have matured in terms of the rigor of their work, complex challenges and problems really do need expertise from different areas. We now recognize the limitations of approaching such problems from just one disciplinary angle."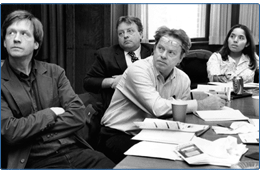 There are more than 30 faculty members who will serve as teachers and advisors to WSSS students, including 15 from the School of Arts and Sciences. They include Bacow, whose research area is environmental economics and policy; David Walt, professor of chemistry, who studies sensors and pathogen detectors; and Scott Horsley, who studies water resources policy and planning. The Rev. David O'Leary, university chaplain, will teach a course on how water serves as a source of spirituality.
Among the seven participating faculty from the School of Engineering are Dean Linda Abriola, whose specialty is groundwater pollution and remediation; Richard Vogel, who studies hydrology and water resources; and David Gute, an expert in epidemiology.
From the Fletcher School are William Moomaw, whose research area is environmental policy and negotiations, and Leila Fawaz, who studies interstate dispute in the Middle East. School of Medicine faculty members are Dr. Jeffrey K. Griffiths, who studies water-borne diseases, and Elena Naumova, who studies public health and mathematical modeling. Veterinary school faculty include Dr. Christine Jost, who studies ecosystem health assessment; Dr. Saul Tzipori and Dr. Giovanni Widmer, who study water-borne pathogens; and Dr. Mark Pokras, whose research is in ecology and disease.
Friedman School faculty include Patrick Webb, who specializes in household water security; Kathleen Merrigan, who studies agricultural science and policy; and Peter Walker, whose area of expertise is disaster relief.