Community partners
Tufts signs historic agreement with Somerville and Medford
by Marjorie Howard
Tufts University has entered into a partnership with the cities of Medford and Somerville that is expected to mutually benefit the economic future of all three entities.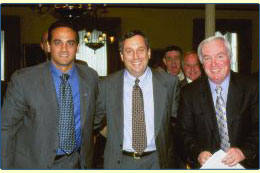 Tufts President Lawrence S. Bacow, center, with Somerville Mayor Joseph Curtatone, left, and Medford Mayor Michael McGlynn at the May 24 news conference at which the historic partnership between the university and the two cities was announced. © Mark Morelli
At a news conference May 24 in Ballou Hall, President Lawrence S. Bacow announced an agreement that calls for the university to contribute $1.25 million to each city over 10 years. At the request of the communities, the funding will be accelerated in the first two years to assist with current budget shortfalls. In addition, Tufts is investing at least $300,000 per community in need-based financial aid to assist undergraduates attending Tufts from each city.
"This is an historic day for Tufts, Somerville and Medford," Bacow said. "For the first time, we have committed ourselves to a plan that includes a financial benefit."
Bacow praised Somerville Mayor Joseph Curtatone and Medford Mayor Michael McGlynn as well as other officials. "Partnerships like this don't just happen," he said of the work that went into developing the agreement.
To appreciative laughter, McGlynn said, "I think Mr. Rogers said it best: 'It's a beautiful day in the neighborhood.' "
Bacow said that Tufts is proud of its presence in Somerville and Medford and noted that the university is the largest private employer in each city, with a payroll of $26 million. He said that Tufts would work to make sure that students from both Medford and Somerville are "well represented" in the university's freshman class each year and that "we will work to meet their financial needs."
Said Curtatone, "This is indeed an historic occasion. The most important thing is there is a mutual understanding that is being memorialized here. We are grateful to have this relationship and to have such a great leader to work with."
McGlynn thanked Bacow, Mary Jeka, vice president for university relations, Barbara Rubel, director of community relations, and Steven S. Manos, executive vice president, "for keeping the lines of communication open."
He had high praise for the president. "Larry Bacow from day one understood what community was, what partnership was. He recognized what the citizens and governments of Somerville and Medford have provided for Tufts, and he worked hard to forge this agreement…no one has understood the long-term needs of the communities like President Bacow."
Stephanie Muccini Burke, president of the Medford City Council, said, "Within a couple of months of Larry Bacow's appointment [as president], he invited us to meet with him. A lot of what Tufts provides for Somerville and Medford goes unsaid, and we are the benefactors. We thank Tufts for the funds that will help us get through these difficult times, but there are programs and community efforts that are just as important."
In addition to the financial contribution, the university has made a commitment to formalize several key benefits:
• In addition to the $300,000 in need-based financial aid for students from Medford and Somerville attending Tufts, the university agreed to provide qualified applicants from the two cities additional consideration in the admissions process.
• Tufts' early childhood programs will continue to provide financial support for local children enrolled in the Eliot-Pearson Children's School and the Tufts Educational Day Care Center.
• The University College of Citizenship and Public Service (UCCPS), a school that focuses on civic engagement, will continue to develop programs that serve Medford and Somerville. Among other activities this past year, UCCPS students created a directory of Medford programs serving children and performed survey work for the preservation of the ponds at the Shepherd Brooks estate. In Somerville, students initiated a chapter of the National Student Partnership, working with homeless and low-income people.
• Tufts will waive rental fees for the use of all campus facilities for both Medford and Somerville governmental agencies and nonprofit organizations. Both communities frequently request campus venues for activities ranging from the use of athletic fields for football clinics and high school graduations to rooms for training sessions, annual meetings and fund-raisers.
• Tufts will continue its educational and environmental programs in both cities. Tufts students are involved in projects aimed at cleaning up the Mystic River as well a variety of programs that work with children, including the Tufts Literacy Corps and the Center for Reading and Language Research. The Center for Engineering Outreach offers a range of programs for children and teachers that focus on science education.
• Tufts will provide a free environmental health and safety program to inventory and make recommendations on the handling of hazardous substances.
• Tufts will reduce fees for Somerville and Medford residents who audit courses from the standard fee of $600 to $100 per course.
Bacow noted that last fall, Tufts sponsored a Community Day for the residents of both cities as an opportunity to enjoy and share the resources of the Tufts campus. Community Day 2004 has been scheduled for Sunday, September 19.
Joining Bacow and other officials at the news conference were Somerville aldermen Jack Connolly and Robert Trane and Medford city councilors Robert Maiocco, Robert Penta and William Carr. Rocco DiRico, an aide to U.S. Rep. Edward Markey, D-Mass., also attended as did state Sen. Charles Shannon and state Rep. Vincent Ciampa, who represent both communities.