In the game
A Tufts/Harvard gridiron clash makes history
Tufts has secured a prominent place in the Sports Museum of New England for a football game that occurred nearly 130 years ago. In doing research for a book about the history of Tufts athletics, Rocco J. Carzo, athletics director emeritus, and former sports information director Paul Rich uncovered compelling evidence that the first football game between two American colleges—using rules that most closely mirror college football today—was played between Tufts and Harvard on June 4, 1875, at Jarvis Field in Cambridge, Mass.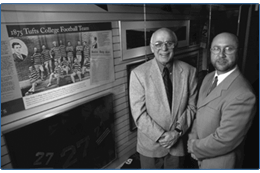 "We have produced this display so that Tufts and Harvard can receive recognition for their role in helping to introduce and advance the sport of football in America," Carzo said. "Our research has shown that this game in 1875 was indeed the first intercollegiate football game in the United States, not the more widely recognized game between Princeton and Rutgers, which was played in 1869. By most accounts, the Princeton-Rutgers game was played using soccer-style rules. The Tufts-Harvard game featured running with the ball and tackling—keys to the advent of the game as we know it today."
The 6-foot by 3-foot display panel, which was created by Tufts' Office of Publications, was installed in early March at the Sports Museum in the Fleet Center in downtown Boston. The panel features a photograph of the 1875 Tufts football team, a reproduction of a June 5, 1875 Boston Daily Globe article covering the game and a letter about the game written by Eugene B. Bowen, student manager of the 1875 Tufts team.
The Sports Museum is devoted to chronicling the history of sports in New England. And for those who keep score, Tufts beat Harvard that day. The score was 1-0.