Visionary remembered

Lou Lasagna, father of clinical pharmacology, dies

Dr. Louis Lasagna, dean emeritus of the Sackler School of Graduate Biomedical Sciences, died August 7 of lymphoma. He was 80.

Lasagna was often called the "father of clinical pharmacology," largely a result of his considerable teaching and research in the field following the publication of his groundbreaking article in the American Journal of Medicine in 1954 in which he showed that taking a pill, even one containing no medication, can have a "placebo effect," providing pain relief and other benefits. In 1997, that research was ranked by Lancet editor Richard Horton as among the world's 27 most notable achievements in a medical canon going back to Hippocrates.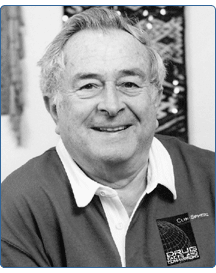 A graduate of Columbia University College of Physicians and Surgeons, Lasagna taught generations of students at John Hopkins, where he established the country's first division of pharmacology in 1954, the University of Rochester School of Medicine and Dentistry and at Tufts for more than a half century. At Rochester, he founded the Center for the Study of Drug Development, which he moved to Tufts in 1976, when he arrived as a faculty member at the School of Medicine. The center's research strikes a balance between ensuring drug safety and timely approval.

Compassionate care-giver
Lasagna encouraged his students to be compassionate physicians, and in 1964, wrote an alternative to the Hippocratic Oath, which all medical school graduates take upon receiving their degrees. The Lasagna Oath, which has been adopted by a number of medical schools, including Tufts, emphasizes the sacredness of the doctor/patient relationship. It reads, in part: "I will remember that there is art to medicine as well as science, and that warmth, sympathy and understanding may outweigh the surgeon's knife or the chemist's drug."

He dispensed advice, wisdom, humor and a healthy dose of references to a landscape of literature during his commencement addresses to medical and Sackler students during most of the 18 years he served as Sackler dean. He urged one graduating class to heed the label on the Hellman's Mayonnaise jar: "Keep cool, but do not freeze." He stepped down as Sackler dean in summer 2002, but continued to teach a course at the medical school.

Widely regarded for his scholarship and his warm nature, Lasagna received honorary degrees from the University of Alcala in Spain, Rutgers University, where he earned his undergraduate degree, and Hahnemann University in Pennsylvania. Endowed chairs were established in his honor at Rutgers University and Tufts School of Medicine. He was the author of two books—The Doctors' Dilemmas (1962) and Life, Death and the Doctor (1968)—and more than 650 journal articles.

Extraordinary work
Internationally renowned for his work on drug development and testing, Lasagna delivered key testimony before Congress in 1962 that resulted in major changes to the FDA and the regulation of the pharmaceutical industry. He was involved in nearly all of the subsequent federal hearings and commissions on drug development. In 1990, he chaired a federal blue-ribbon panel that recommended faster approval of new drugs for cancer and AIDS that were in the pipeline.

During his 54-year career in medicine and higher education, Lasagna held editorial appointments at more than two dozen scientific journals, including The Scientist. He served as a consultant to dozens of organizations, including the National Cancer Institute and the U.S. Department of Health and Human Services.

Throughout his career, the word "visionary" was often attached to his work. And yet, to many, he was just plain Lou, the doctor who grew up in an Italian-Jewish neighborhood in Queens, N.Y. "Despite his eminence, he has kept the common person's touch," Joan Rachlin, executive director of the advocacy group Public Responsibility in Medicine and Research, said in an interview in the summer 2002 issue of Tufts Medicine. "He's just Luigi Lasagna from New Jersey."

Lasagna is survived by his wife, Helen, three sons, four daughters, and eight grandchildren.