Class of 2007

Incoming undergrads urged to develop great expectations
by Marjorie Howard

On a warm day softened by a gentle breeze, the Class of 2007 took its place at Tufts during matriculation ceremonies. Greeted by faculty and administrators, students assembled on the Hill while eager parents snapped pictures and a few dabbed at their eyes as a brass quartet played in the background.

The number of applications to join this freshman class at Tufts set a new record with 14,527 applicants vying for 1,280 spaces, an increase of nearly 71 percent since 1995. Tufts' newest students come from 824 high schools, 46 states and 42 countries. About 29 percent of the class comprises students of color, with students of African descent making up 8 percent of the class, Latinos 7 percent and Asian Americans 14 percent.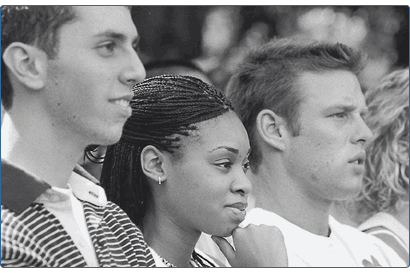 © Mark Morelli

Tufts President Lawrence S. Bacow welcomed the students and their families on August 27 by suggesting that while parents must grant the newly minted freshmen their independence, it is up to the students themselves to take advantage of all that Tufts and the Boston area have to offer.

"You are entering Tufts at a remarkable time in history," he said. "We face so many profound challenges that cry out for new knowledge, understanding and creativity. At Tufts you will have the opportunity to explore these questions through your coursework and through collaboration with the faculty. You are fortunate to be attending a research university where the faculty are true teacher-scholars."

Fasten your seatbelts
Bacow suggested that students get to know their teachers. "Just ask them what excites them about their scholarship. Then sit back, fasten your seatbelt and keep your hands inside the ride. You will be treated to an animated discussion that I hope will prove infectious."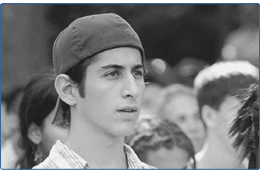 © Mark Morelli

He told them about the new Summer Scholars Program, which this year provided stipends for undergraduates to work with faculty at Tufts' eight schools and four affiliated teaching hospitals, where students collaborated on such projects as how oxygen therapy influences the health of premature infants and how the tobacco industry markets to women.

He told the students that much of their learning will take place outside the classroom, suggesting they take advantage of the student organizations that thrive on campus and also visit Boston's museums as well as some of the historic sites in Somerville and Medford.

And he encouraged them to get to know other students, especially those whose backgrounds are different from their own. "One reason you have come to Tufts," he said, "is to be exposed to people who are different from you. We value and embrace diversity because we learn from our differences. Too often we take much for granted about our own view of the world. It is only when we confront others who see the world through different eyes that we come to understand our own assumptions, biases and expectations…go out of your way to seek out those who are different from you. You will be amazed at what you learn and also what you have to teach."

A community of 80,000
Also welcoming the students was Alan MacDougall, president of the Tufts University Alumni Association, who told the new students they had just joined a family that has more than 80,000 members and that membership in that family means there will be "love, help and encouragement, even from people you don't know."

Vincent P. Manno, professor of mechanical engineering, promised parents on behalf of the Tufts community that "we will do all we can to give these students every opportunity to not only exceed their expectations but more importantly, to develop new expectations." He advised students to "use your experiences in and out of the classroom to embrace depth and breadth, learn a great deal about a few things and a few things about everything else."

In what was one of several references by speakers to local sports and culture, Manno wished the students good luck. "Approach these years with great hope and good humor," he said. "Now as a resident of a region sometimes referred to as 'Red Sox Nation,' hope and humor must be your constant companions."