Work and play
Nations' labor force equity determines women's athletic success
by Terry Ann Knopf
There is a strong correlation between nations' inclusion of women in the workplace and how women from those countries perform in international sports competitions, including the Women's World Cup in soccer, according to a new study by an economist at the Fletcher School of Law and Diplomacy.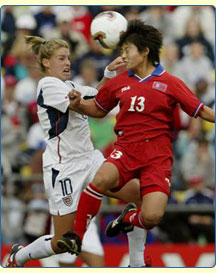 © REUTERS/Gary Hershorn
Michael W. Klein, professor of international economics at the Fletcher School, set out to determine whether the degree of gender equality in a country might be a strong predictor of the success of its women in international sports competitions. His study, "Work and Play: International Evidence of Gender Equality in Employment and Sports," will be published early next year in The Journal of Sports Economics.
Klein compiled statistics from 54 countries that competed for a qualifying spot in the 1999 Women's World Cup and in more than 300 events in the 2000 Summer Olympics in Sydney, Australia. Then he looked at the number and type of Olympic medals earned, the likelihood of qualifying for the World Cup and the number of points earned in World Cup competition.
Not surprisingly, Klein found that certain factors, such as a country's income level and population size, influenced that country's success in international sports competition. But even after controlling for such factors, Klein discovered another not previously reported or recognized influence on athletic performance—workforce equality—that strongly correlated with women's success on the playing field. Workforce equality was determined by the number of women working in a country compared to the number of men who had jobs.
In the 1999 Women's World Cup, Klein found that workplace equality in a country significantly determined whether a nation qualified for the Cup and how it performed if its team did qualify.
Unequal sisters
For example, seven of the 10 industrial countries with the highest level of workforce equality rates qualified for the World Cup in either 1999 or 2003, and four of those nations—Sweden, Norway, Canada and the United States—qualified for both competitions. By contrast, none of the seven industrial countries with the lowest workforce equality rates, including Ireland, Spain, Greece and Austria, qualified this year.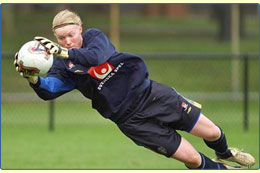 © Associated Press
Klein's findings also were supported by statistics from the Sydney Olympics: Women from a country ranked in the top quarter of workplace equality won, on average, nearly five more medals at the Games than their sisters hailing from a country at the bottom quarter.
"This would explain why Canadian women won seven medals in Sydney, while Spanish women won only four," Klein said. "In both cases, the primary difference was not income or population, but the fact that Canada is in the 75th percentile of the workplace equality rate, while Spain is only in the 25th percentile."
Klein said his study is good news for the United States. "Our country can be proud that our national soccer team not only won the last competition," he said, "but is the favorite in this year's Cup. However, the real point of pride is that these results reflect a society that by international standards, at least, treats women equally."