Two Rooms
Exhibition highlights Purcell's sculptural installations
A new exhibition opening this month at the University Gallery is the first to highlight artist Rosamond Purcell's sculptural installation work following her years of success as a photographer and author.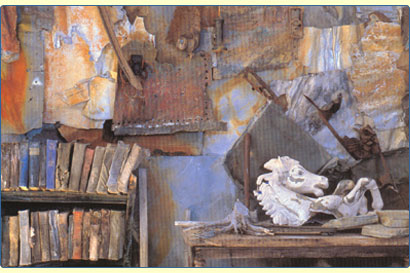 "Two Rooms," a detail by Rosamond Purcell © Rosamond Purcell
"Rosamond Purcell: Two Rooms" opens October 7 in the Tisch Gallery in the Aidekman Arts Center and will run through December 14. An opening reception will take place on October 9 from 5 to 8 p.m. in the arts center's Remis Sculpture Court.
The Purcell exhibition features a full-size re-creation of 17th century naturalist Olaus Worm's "Wunderkammer," a cabinet of curiosity set in relation to Purcell's longtime Somerville, Mass., studio, which has been meticulously deconstructed and reassembled in the Tisch Gallery.
Containing more than 400 objects, ranging from elements of natural history to junkyard debris, "Two Rooms" embodies Purcell's 20-year preoccupation with collecting and the concept of classification. She has recreated Worm's "Wunderkammer" from a detailed engraving published in 1655, complete with a narwhale tooth, tortoise shells, animal horns and exotic skins. The second room is her studio, teeming with piles of tattered books, junk automobile parts, old clocks, obsolete machinery and other objects found during 20 years of excursions to a junkyard in Owls Head, Maine.
Purcell's most recent book, Owls Head, will be published this fall. It is an artist's journal and biography of William Buckminster, the owner of the antique and scrap metal business from which Purcell has been gathering objects for 20 years.
The influence of Purcell's collaborations with evolutionary biologist Stephen Jay Gould, science historian Katharine Park and pathologist Frank Gonzales-Crussi resonates in her work. She intertwines science and art, confronting issues such as museology and natural history, the material and the non-material, natural decay and obsolescence, aesthetic and the science of reason. The intersection of the content and context of the two rooms is the essence of the Tisch Gallery exhibition.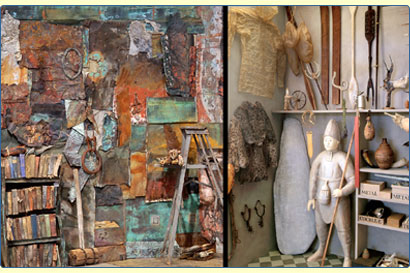 Detail from Purcell's studio, left.Right, reconstrcution of Olas Worm's "Wunderkammer," a detail © Rosamond Purcell
In addition to the sculptural installation, "Two Rooms" features more than 30 photographs that reflect themes in the exhibition. The photographs were selected by the gallery and Andrew McClellan, associate professor of art history at Tufts. "Two Rooms" is organized by the Santa Monica Museum of Art and curator Lisa Melandri.
Members of the Tufts community are invited to a "Conversation" with Purcell on Thursday, October 23, starting at 5:30 p.m. in the University Gallery. Other participants will include Katharine Park, Zemurry Stone Professor of the History of Science and Women's Studies at Harvard, Harriet Ritvo, Arthur J. Connor Professor of History at MIT, and Tufts' McClellan.
The exhibition, opening reception and the "Conversation" are free and open to the public. Gallery hours are Tuesday through Saturday from noon to 8 p.m. and Sunday from noon to 5 p.m. For information, call the gallery at (617) 627-3518 or visit http://www.tufts.edu/as/gallery