Attachments

Genetics influence social behaviors

Approximately 50 faculty and staff from Tufts' Medford/Somerville, Boston and Grafton campuses were at the School of Veterinary Medicine on September 25 to hear Dr. Thomas Insel, director of the National Institute of Mental Health, discuss the science behind what makes species form social attachments.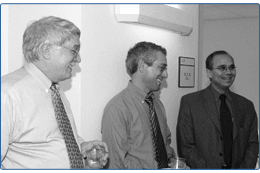 © Andrew Cunningham
Organized by Dr. Robert Bridges, professor of biomedical sciences and head of the veterinary school's Section of Reproductive Biology, the seminar provided tangible evidence of the increasing number of interdisciplinary collaborations occurring at Tufts.
Insel's research has established that two neuropeptides—oxytocin and vasopressin—affect maternal behavior and pair bonding in rats and gerbils, respectively. The research also identified specific regions of the brain and genes that control social attachment behaviors in these species.
Insel has studied two social behavioral deficits in people: autism and William's syndrome. Researchers have just begun unraveling the molecular and genetic bases for these clinical conditions, with animal studies providing clues as to their underlying causes. Insel's research uses powerful genetic and molecular approaches to better understand and treat psychiatric disorders, including schizophrenia.
The National Institute of Mental Health is the section of the National Institutes of Health charged with generating knowledge to understand, treat and prevent mental disorders affecting approximately 44 million Americans, including one in five children. Efforts are also aimed at reducing the alarming rate of suicides, which are responsible for as many deaths worldwide as wars and homicides combined.