Fighting bioterrorism
Veterinary school wins $25M biodefense contract
by Barbara Donato
The School of Veterinary Medicine has received a $25 million, seven-year contract from the National Institute of Allergy and Infectious Diseases to bolster the United States' ability to prevent, treat and control diseases caused by infectious agents and toxins that could taint the nation's food and water supply.
"This award recognizes the important role that veterinarians play in addressing public health threats," Tufts President Lawrence S. Bacow said. "Nearly 76 million illnesses and 5,000 deaths every year in the United States are due to food-borne pathogens alone, so our ability to quickly diagnose and treat food-and water-borne pathogens is of paramount importance. This research will play a critical role in protecting our country from bioterrorist threats."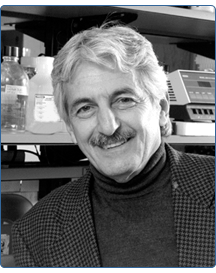 Tufts will establish a Microbiology Research Unit as part of a new nationwide Food and Waterborne Disease Integrated Research Network. A major focus of the unit will be a Center of Botulinum Therapies Research and Development, the first of its kind in the United States. Tufts researchers will work with colleagues at the University of Massachusetts on this portion of the contract, which will focus on developing ways to diagnose and treat botulism poisoning—a rare but serious paralytic illness caused by a nerve toxin that is produced by the bacterium Clostridium botulinum.
The other four units funded in the current federal fiscal year are at academic research centers in Michigan, Maryland, New York and Washington State. All of the units will evaluate vaccines, therapeutics, rapid diagnostic methods, body defenses and the microbiology and ecology of diseases transmitted between humans and animals.
The Tufts-led team of researchers will identify and characterize the human pathogens that can cause disease in food or water suspected of either accidental or deliberate contamination. They also will rank the pathogens according to their significance, including how often they occur every year in the United States, whether they are contagious and can cause severe infections in humans and if bioterrorists can readily produce them in large numbers and distribute them through food and water.
"The discoveries that will be made as a result of this award are going to have a profound impact on how our nation and others respond to the very real threat of bioterrorism," said Jack M. Wilson, interim president of the five-campus University of Massachusetts system. "This award is recognition that some of the best and most important science in the world is being conducted here in Massachusetts."
The botulism research center will draw on the expertise of Dr. Saul Tzipori, Distinguished Professor in the School of Veterinary Medicine's Department of Biomedical Sciences and an internationally known infectious diseases expert, and Bal Ram Singh, professor of biophysical chemistry at the University of Massachusetts-Dartmouth. Tzipori led the efforts to obtain the federal contract.
Tzipori said the contract also will help consolidate Tufts' plan to establish a food- and water-borne pathogen research center that includes a regional water testing facility. "This center will place us at the forefront of the national biodefense effort to safeguard our food and water sources," he said.
"In the case of a bioterror event, even a couple of thousand cases of botulism would completely overwhelm the U.S. public health system," Singh said. "There is an urgency to our mission. This award will accelerate our efforts to combat one of the most dangerous threats to human beings around the world."
UMass-Dartmouth, which has one of two major U.S. labs conducting comprehensive research on botulinum neurotoxin production, will triple its existing 3,500-square-foot laboratory to accommodate the new center's mission to develop botulism treatments and design diagnostic strategies.