Celebrating community
A gathering of neighbors
More than 200 residents, neighbors and friends celebrated Community Day with Tufts and the cities of Medford and Somerville October 18 on the Medford/Somerville campus. The event was cosponsored by Tufts and the two cities.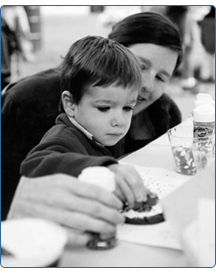 © Vito Aluia
"Tufts has enjoyed and valued our relationships with Medford and Somerville for more than 150 years," Tufts President Lawrence S. Bacow said. "We were excited to host our neighboring communities for a day of fun and learning for the entire family."
Activities began with the Medford High School cheerleaders helping children paint pumpkins. Bacow welcomed guests in the Coolidge Room of Ballou Hall. The community gathering featured lectures by Tufts faculty and alumni, performances by student musical groups, plenty of food and games for kids. Kids explored fire trucks and tried on firefighting gear, and Jumbo, Tufts' mascot, posed for photos with the visitors.
Faculty who gave presentations included University Professor Sol Gittleman on the history of immigration in Medford and Somerville; Maryanne Wolf of Tufts' Center for Reading and Language Research on her center's work with the children of Medford and Somerville; anthropologist David Guss on his current exhibit at the Somerville Museum, "The Lost Theaters of Somerville"; University Chaplain David O'Leary on the history of Goddard Chapel and Adil Najam of the Fletcher School on international negotiation and the politics of the Muslim world.
Jonathan Lee, A03, screened his documentary, "Life on the Hill: A History of Tufts Told through the Story of Its Buildings," and Tufts' team of "Nerd Girls" engineers showed off the solar-powered car they are building.
Community groups from Tufts, Medford and Somerville staffed information tables on their activities throughout the day, and the Rev. Patricia Kepler gave a talk on the major religious holidays and rites of passage in a variety of traditions.