Health outcomes
Access for all
A Tufts nutrition scientist has been tapped to lead one of eight new federal centers that will conduct cutting-edge research to reduce disparities in health care access and treatment among the nation's poor and minority citizens.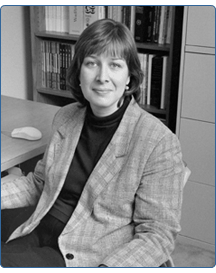 © Mark Morelli
Katherine L. Tucker, associate professor at the Gerald J. and Dorothy R. Friedman School of Nutrition Science and Policy and director of the Dietary Assessment Research Program at the Jean Mayer USDA Human Nutrition Research Center on Aging, will head the center that will evaluate specific stresses that affect Boston's older adults of Puerto Rican origin. Collaborating with researchers at Northeastern University, Tucker's center aims to gain a better understanding of the factors that lead to poor health outcomes and to determine how these processes link to the health disparities found in minority communities.
"It is vital that all populations benefit from scientific knowledge and advances," Health and Human Services Secretary Tommy G. Thompson said in announcing the creation of the eight Centers for Population Health and Health Disparities. "This initiative is an exciting step toward understanding and eliminating health disparities for numerous diseases throughout the United States."
Four institutes or offices within the National Institutes of Health—the National Institute of Environmental Health Sciences, the National Cancer Institute, the National Institute on Aging and the Office of Behavioral and Social Sciences Research—will support the centers' multidisciplinary research to examine how social and physical environment, behavioral factors and biologic pathways interact to determine health and disease in certain populations.
The eight centers will form a network of research teams to explore the complexity of health disparities. Investigators will follow a community-based approach that involves community stakeholders in the planning and implementation of the research, with studies focusing on obesity, cardiovascular disease, breast cancer, prostate cancer, cervical cancer, mental health, gene-environment interactions, psychosocial stress and other factors.
Populations that will be studied include low-income whites, African Americans, Hispanics and the elderly.