Young scholars

Genetics, dance and nail salons are featured at research symposium
by Marjorie Howard

From a study of mutant proteins to an investigation of the fiscal policy of the European Union, undergraduates demonstrated their ability to engage in compelling, scholarly work at the fifth annual Undergraduate Research and Scholarship Symposium.

Some 60 students presented their findings at a poster session attended by faculty, students and family members March 29 during a daylong program at the Cabot Intercultural Center. The symposium demonstrated one of the priorities of the president's Task Force on the Undergraduate Experience—the importance of expanding opportunities for undergraduates to participate in research.

"As a liberal arts college embedded within a research university," the task force said in a preliminary report, "Tufts is particularly well placed to provide such research opportunities, especially when we consider our tradition of being a place where the faculty are equally dedicated scholars and teachers."

This year's event was organized by a group of students and supported by Dean of Arts & Sciences Susan Ernst and Charles Inouye, dean of the colleges for undergraduate education. Harry Bernheim, associate professor of biology, was the faculty advisor for the program.

Student work represented projects from the humanities, the arts, the sciences, social sciences and engineering.

Transforming experience
"Undergraduates at Tufts have the opportunity to become involved in a rich variety of research projects," Inouye said after the symposium. "We are pleased that our faculty, who are truly teacher/scholars, are able to offer the kind of commitment to students that allows them to participate in scholarly activities. It's a wonderful chance for students to work close at hand with mentors and to engage in original research themselves."

By doing research, Inouye said, students are transformed, better understanding the motivations, passions and methods of faculty, while the students themselves become creators of knowledge.

Among the presentations was an assessment of occupational risks to Vietnamese nail salon workers presented by Mary Ly, A03, who reported that adverse health effects appear after chronic exposure to the kinds of toxic substances used in the cosmetics industry. Vietnamese immigrant workers, who dominate the nail industry, she said, often have poorer health than other nail technicians.

Ly interviewed experts in occupational and minority health in California, which has the nation's largest Vietnamese population and a great number of nail salons. In addition, she interviewed nail workers in Massachusetts. She learned that Vietnamese workers "do not have a strong technical knowledge of the chemicals with which they work or how these chemicals may affect their health." Ly prepared a health and safety promotion guide written in Vietnamese.

Mitch Lunn, A04, one of the students who helped organize the symposium, presented his findings on chemical genetics, a relatively new approach to understanding the molecular basis of biological processes. Lunn looked at spinal muscular atrophy, a neuromuscular disease that results in the progressive wasting of muscle tissue. "Through the screening of thousands of small molecules," he said in his presentation, "we are able to discover enhancers and suppressors of the disease and to better understand how each molecule functions mechanistically in regulating pathogenesis."

Among the other projects were Marianne Chow's examination of mizuko kuyo, a Japanese ritual that memorializes aborted fetuses; it is a practice that serves as an emotional and spiritual outlet for women who have had an abortion. Chow, A03, questioned why there is no similar ritual in the United States. "My findings show," she wrote, "that the absolute ideological basis of the American thought on abortion has resulted in a lack of a moral gray area where post-abortion grief can be readily understood by its society. On the other hand, the practical basis of the Japanese thought on abortion enables its society to perceive post-abortion grief as an understandable and even humane reaction to abortion."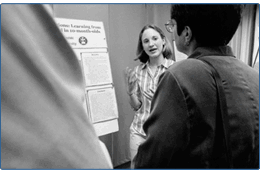 For the annual symposium, Bernard Zirnheld, A03, researched the career of architect Gridley J. Fox Bryant, the most prolific Boston architect of the 19th century. Matthew Cravens, A03, studied mandatory minimum sentencing for drug offenders in Massachusetts, looking at the relationship between race, criminal history and sentence length. Laura Schenkein, A05, investigated the level of American public opinion toward humanitarian interventions since the end of the Cold War and found that the level of opinion remained constant.
Will Chrysanthos, A03, performed a West African social dance, Bamaaya, he learned from Dolsi-naa Abubakari Lunna, a visiting drum and dance master from Ghana. Chrysanthos studied the form of the popular dance and learned how to improvise new steps. "Most importantly," he said, "as an American learning Bamaaya, dance master Dolsi-naa has reminded me to enjoy the movement and smile while I dance."