On the waterfront

Tufts Rowing has a new home on the Malden River
by Paul Sweeney

The same cooperation that propels a rowing shell is the spirit surrounding the Tufts crew team's recent relocation to the Malden River.

A partnership between Tufts Rowing, directed by Head Coach Gary Caldwell, and Combined Properties, a real estate investment and development firm in Malden, has produced progress for Tufts and the City of Malden. For Tufts, which had been rowing on Boston's Charles River out of rented space at Harvard University's boathouse, the new facility has allowed the program to become fully functional. With Tufts on the river, Combined Properties has seen the potential to develop a forgotten waterway into a recreational and environmental resource that could be a boom to the City of Malden. The company's support of the venture includes a free lease of land that Tufts' current equipment storage facility sits on.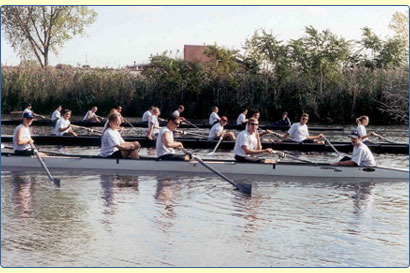 "I don't know in the rowing world of a parallel to this," said Caldwell, the head crew coach since 1990. "A private real estate company has gone out of its way, of its own volition, to help a rowing program come of age. From a standpoint of civic responsibility, we are an example that it's possible to take a long-neglected and oft-times abused river and make it useful to the people who live adjacent to it."
The root of the story dates back 30 years. Rowing in high school had been a watershed experience for Chris Maietta, who competed at Phillips Andover Academy during the early 1970s. Now the vice president of business development and marketing at Combined Properties, he discovered the possibility of rowing on the Malden River at a company-sponsored fireworks display that was set up along the river to celebrate Malden's 350th birthday during summer 1999.
"It was really an accident because I had been working here for maybe five or six years, and I never paid any attention to the river," Maietta said. "We always thought of it as kind of a ditch back there. The Malden River area has always been heavily industrialized, with big factories belching out smoke and making industrial products. The river was certainly not thought of as much of a place for recreation."
During a ride on a motorboat, he noticed the river was flat, calm and reasonably wide. Memories of his love for rowing resurfaced. The initial idea was to help a local high school start a team so that its students could enjoy the same experience. He made phone calls to rowing programs in the area looking to borrow equipment. Caldwell was the first to call him back.
A few days after exploring the site, Caldwell proposed moving the Tufts program to the river. The Charles had become inundated with boats, and Tufts was operating under strict time and space constraints in Harvard's boathouse. Caldwell had been looking for an alternative site that would allow the program to expand. In fall 1999, Combined Properties provided a warehouse for Tufts to store its equipment, and Tufts rowers began using the river on a trial basis.
At first, the athletes weren't impressed. The Charles and Harvard's Newell Boathouse are international centers of rowing and provide a spectacular view of the Boston skyline. The Malden River had the view, but not much else.
"The Charles lives and breathes rowing," said Mike Friedburg, a senior from Pittsford, N.Y., who sits in the stroke seat for the varsity eight. "The aesthetic value was wonderful. I can't speak for everyone, but to leave that to move to a neglected river wasn't pleasing."
Tufts and Combined Properties began working on a lease agreement. In the meantime, Tufts returned to the Charles for the 2000-01 season. Then in May 2001, Combined Properties made a long-term commitment to Tufts for land close to the river. The program moved there full time for the 2001-02 season and put up a transitional storage structure.
The benefits for both parties soon emerged. The Tufts program, which consists of approximately 85 members and 10 boats, has twice as much space as it had at Harvard, where it had been housed since 1980. The Malden water is calmer and less populated than the Charles, which means less practice and race time lost to bad weather and more time for coaches to teach rather than worry about oncoming crews.
The river is quickly becoming a place where other programs want to row. Tufts hosted four races there in spring 2002. This year, Trinity College and the Coast Guard Academy moved their 30-year-old Mason-Downes Cup race from New London, Conn., to Malden. With the course passing just 50 feet off shore as it heads down the finishing stretch, it is a great location for spectators. The Tufts men's varsity eight is undefeated on the river.
"There's not a question from a competitive standpoint if you look at how our overall squad performed last year that it was the most successful year we've had since probably 1995," Caldwell said. "A good part of that is because of the quality of the rowing experience, the actual amount of usable water time we had and the more efficient use of time that we were able to utilize coaching."
Turning a negative into a positive, Friedburg organized a river clean-up day in April 2002. Sixty-five rowers and some parents collected trash along the riverbank. Tufts is also helping to establish a rowing program at the local Mystic Valley Charter School. All of this activity and goodwill on the river has city leaders smiling, Maietta said.
"Having an institution of Tufts' caliber here on a daily basis, engaging in this activity which has so much history behind it, has a positive effect that it lends to the city," he said.
With approval and funding, Tufts will build a permanent boathouse and landscape a large area along the riverbank. Until then, the Tufts rowers have their own facility and their own river that allows them to practice and compete when and how they want.
"It gives us more ownership of our rowing experience," said senior Rebecca Clark, a member of the women's varsity eight from Seattle. "All of the bigger programs have their own facility. It's integral to success. This puts us on the map."
Paul Sweeney is the Tufts' sports information director.