Coastal etchings
University Gallery features work of Charles H. Woodbury
An exhibition of Charles H. Woodbury's masterful etchings of the New England coast, from the North Shore of Massachusetts to Maine, opens on Thursday, May 8, at the University Art Gallery.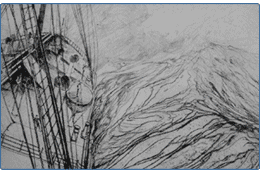 Courtesy Boston Public Library
The show, "Freeing the Line: The Etchings of Charles H. Woodbury," focuses mainly on his etchings within the context of his philosophy, process and teachings. The exhibition will use text and related artifacts to bring to light Woodbury's working methods, his life as an artist and the times in which he lived.
The show, which was organized by students in the Tufts Museum Studies Program's exhibition planning class, will run through May 18 at the University Art Gallery, 40 Talbot Ave., on the Medford/Somerville campus. An opening reception will take place May 8 from 6:30 to 8:30 p.m. at the gallery.
Born in Lynn, Mass., in 1864, Woodbury insisted on suggestion and his belief that one should create from personal experience.
After graduating from the Massachusetts Institute of Technology in 1886 with an engineering degree, Woodbury and his wife, Susan Marcia Oakes, went to study in Holland and then in Paris. He studied at the Academie Julian in Paris with Boulanger and Lefebvre.
During his life (he died in 1940), Woodbury won many awards, including those from the Boston Art Club (1884, 1895), Atlanta Exposition (gold, 1895), Nashville, Tenn., Centennial (1897), Paris Exposition (1900), Carnegie Institute (1905), Buenos Aires Exposition (1910), American Water Color Society (1911), W.A. Clark Prize and Corcoran Medal (1914), Pan-Pacific Exposition in San Francisco (gold, 1915), the Palmer Marine Prize and Ranger Fund Award from the National Academy (1932) and the Noyes Prize from the Society of American Artists (1933).
Woodbury's work is represented at the Gardner Museum, the Art Institute of Chicago, Boston Museum of Fine Arts, St. Louis Art Museum, Boston Public Library, Metropolitan Museum of Art and at hundreds of other museums and institutions. He presented more than 60 one-man exhibitions, the first being at the J. Eastman Chase Gallery in Boston in 1887, and the last at the Winchester (Mass.) Public Library in 1939, the year before he died.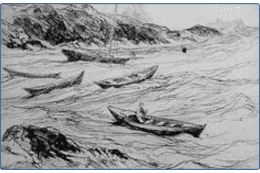 Courtesy Boston Public Library
In 1988, MIT gave a monumental Woodbury exhibition, "Earth, Sea and Sky," which traveled to museums through 1993. Woodbury taught art at the Worcester Art Association, Wellesley College, Dartmouth College, the Ogunquit, Maine, summer art school and at the School of the Chicago Art Institute. He was the author of The Art of Seeing (1925) and Painting and the Personal Equation (1922).
In June, "Freeing the Line" will travel to the Portsmouth Athenaeum in Portsmouth, N.H., where it will be exhibited through October 2003.
Admission to the Tufts exhibition is free and open to the public. Gallery hours are Tuesday through Saturday from noon to 8 p.m. and Sunday from noon to 5 p.m. The gallery is wheelchair-accessible. For more information, contact the gallery at (617) 627-3518.