Into the abyss

Tufts students help kids build robots to explore the 'Titanic'

The story of the Titanic continues to tantalize audiences, and school-age children are no exception. Some 75 youngsters from Boston area schools spent more than three months designing and building robotic vehicles with the goal of having them explore a three-dimensional version of the doomed ship.

On April 5 they faced off in a competition at the Epiphany School in Boston's Dorchester neighborhood in which the robots searched the replica for artifacts.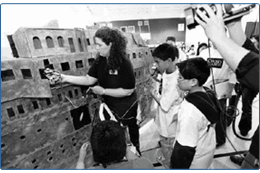 Students from Boston-area schools use robots they designed and built to explore a model of the Titanic.

© Jacob Silberberg
Students from the Tufts University Center for Engineering Educational Outreach (CEEO) served as mentors to the students, who came from schools and after-school programs in Dorchester, Chinatown, Malden and Lincoln. CEEO co-sponsored the competition with Walden Media of Boston, the co-producer of the film "Ghosts of the Abyss," a 3-D movie that recently opened nationwide. The movie was made by James Cameron, director of the film "Titanic," and documents how two remotely operated vehicles—dubbed Jake and Elwood—traveled through the wreck of the ship, their built-in video cameras capturing images of artifacts unseen for more than 90 years.
The student competition echoed the plot of "Ghosts of the Abyss" as the student-designed robots traveled through a three-dimensional maze based on blueprints of the Titanic wreck provided by Cameron's production company. Like Jake and Elwood, the robots used built-in video cameras to capture images of artifacts found on the actual Titanic expedition, including a bowler hat, a medicine bottle, dishes and a stained glass window.
The robots were made using the LEGO Mindstorms system, which employs special software created by the Center for Engineering Educational Outreach.
"We are proud to partner with Tufts to hold this competition," said Micheal Flaherty, A90, president of Walden Media, which makes movies and television shows aimed at general audiences. "Team Titanic kids got excited about math, science and engineering, and this event underscored our commitment to helping students find exciting and unusual ways to stretch their learning far beyond traditional textbooks."
Flaherty founded Walden Media with Cary Granat, also a 1990 Tufts graduate, who is the company's chief executive officer. Among Walden's movie projects are the just-released film "Holes" and the forthcoming "Around the World in 80 Days" and "The Chronicles of Narnia."
The Center for Engineering Educational Outreach at Tufts' School of Engineering is dedicated to bringing engineering into K-12 classrooms. Using engineering design activities, the center coordinates engineering and education experts with teachers in elementary and secondary schools to design curricula based on engineering standards. More than 300 teachers in schools across the United States and abroad have worked with the center to generate curricula, test new teaching strategies and investigate how kids learn.