Tufts marathoners

They ran—and they conquered all 26.2 miles

On a warm spring day that was kinder to the spectators than the runners, Tufts President Lawrence S. Bacow and the Tufts marathon team conquered the 26.2-mile course from Hopkinton, Mass., to downtown Boston when they competed in the 107th Boston Marathon on April 21.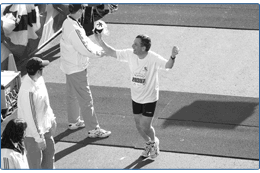 © Bethany Versoy
The grueling training regimen during the depths of winter, the aches, the blisters, and the pains were all for the good as the team raised more than $230,300 to support the Tufts Personalized Performance Program, a customized fitness, health and nutrition assessment that is free of charge to all Tufts undergraduates. The goal of the program is to promote healthy lifestyles while students are at Tufts—and after graduation. With pledges to the Marathon Challenge still coming in, it is anticipated that the challenge will exceed its $250,000 goal.
Hundreds of Tufts volunteers cheered on the 38 Tufts runners, who wore white Tufts baseball caps and white Tufts T-shirts. Tufts volunteers staffed water stations along the legendary marathon course and also were at the finish line to greet the team.
"Seeing the Prudential Center for the first time coming down Beacon Street was a great sight," Bacow wrote in the running journal he has kept throughout his training. "I ran through Kenmore Square, up Hereford and down Boylston. I saw [my wife] Adele and my sister Lainey, who drove up from Philly for the race, just before I crossed the finish line. As soon as I crossed, I was greeted by our trustee, Bruce Male, who gave me water and a hug. Bruce was immediately followed by my assistant, Elise Renoni, and our provost, Jamshed Bharucha. All of them were working the finish line as volunteers.
"In the VIP tent, the Tufts team gathered together for photos. I think most of us were elated, excited and exhausted. It was a tough race, but we all made it. I was incredibly proud of all our runners, many of whom overcame serious injuries experienced during training. I think we are all glad that we ran, but we are also glad that it is now behind us," Bacow wrote.
"Now we just have to nurse our sore legs back to health…Then it is back to work. Now that the marathon is behind me, I have a university to run."
For those still wishing to make a pledge to the Tufts Marathon Challenge, go to http://www.tuftsmarathonchallenge.com