Court stars
Tufts honors two great men's basketball teams
by Paul Sweeney
With master of ceremonies Steve Clay, A90, former sportswriter for the Tufts Daily, calling out their names, members of past Tufts men's basketball teams descended out of the crowd at Cousens Gymnasium and sauntered to center court. With applause from the large crowd on hand for the last home game of the regular season, the 10-minute half-time ceremony during the Tufts-Colby game on February 8 was a grand salute to Tufts' basketball history.
Even rival Colby College Coach Dick Whitmore, on the job since 1970, got caught up in the moment by sharing handshakes and hugs with a number of former Jumbos whom he coached against.
Two events on campus converged to create the special reunion. The Tufts Black Alumni Association hosted a weekend program on the history of black athletes at Tufts. A reception on Friday night and a panel discussion on Saturday morning on "Sports and Race Relations in the 70s, 80s and 90s" preceded the Colby game. Gerald R. Gill, associate professor of history, curated an exhibition, "Academic Accomplishments and Sporting Activities: The History of Black Male and Female Athletes at Tufts, 1900-Present," which was on display at the Aidekman Arts Center. Also, the men's basketball team was hosting its annual Alumni Day, with a number of former players from various eras returning to the gym.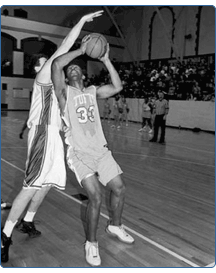 At the center of the half-time celebration was special recognition given to the 1972-73 and 1981-82 Tufts men's teams that won the Eastern College Athletic Conference (ECAC) Championships. The 1972-73 team was coached by Tom Penders, who went on to make a name for himself as a major college coach at Columbia, Fordham, the University of Rhode Island, Texas and George Washington. He was unable to attend, but his best wishes were relayed to the team by Clay, who spoke to him by phone. Tufts beat Williams, 95-89, in double overtime at Cousens to win the inaugural ECAC title in March 1973. Among the returnees was Reggie Graham, who averaged 12.5 points and 13.5 rebounds that season.
The 1981-82 squad was equally dramatic, beating Amherst in double overtime, 74-73, to win the ECAC crown. Leading scorer Troy Cooper (19.0 points per game, 11.1 rebounds) and leading rebounder Bill Ewing were among the players who returned from that team.
Other Tufts basketball greats in the house included all-time leading scorer Greg Davis, 1995 First Team All-American Chris McMahon and Mudaris Jihad (formerly Daryl Brown), who received the 1977 Bob Cousy Award as the outstanding New England basketball player under six feet.
The current Tufts team put a cap on the festivities by routing Colby, 89-71, to take over third place in the New England Small College Athletic Conference (NESCAC).
Paul Sweeney is Tufts University's sports information director.