The Jews of Uganda
Photography exhibition celebrates the Abayudaya
Inside eastern Uganda, a community of 600 Africans is an anomaly. Known as the Abayudaya (the Jewish People), they observe the Sabbath and Jewish holidays, attend services, follow dietary laws and worship in a mud and brick synagogue. During the reign of dictator Idi Amin, their synagogues were closed, and the community prayed in secret.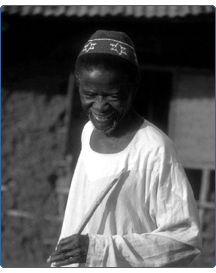 Rabbi Mishael Biroji at the Moses Synagogue in Uganda © Richard Sobol
During two visits to Uganda, free-lance photographer Richard Sobol, who received his BFA in the joint Tufts/School of the Museum of Fine Arts degree program in 1976, has chronicled the lives of the Abayudaya in rich color images. Those photographs form the basis of the exhibition, "Abayudaya: The Jews of Uganda," which runs through March 23 at the Tisch Gallery in the Aidekman Arts Center.
Sobol traveled to Uganda with Rabbi Jeffrey Summit, associate university chaplain and executive director of the Tufts Hillel Foundation. Summit, who earned a Ph.D. in ethnomusicology from Tufts, recorded the music of the Abayudaya—Jewish melodies influenced by African rhythms and harmonies. Sobol's photographs and Summit's field recordings and essay on the musical traditions of the Ugandan Jews were published last fall in Abayudaya, the Jews of Uganda (Abbeville Press).
The Abayudaya Jews date back to 1917, when Semei Kakungulu, a Buganda leader who had resisted European colonialists and missionaries, embraced Jewish practice as described in the Hebrew Bible. During the 1920s, a European Jewish trader taught Kakungulu and his community the theory and practice of Judaism.
"I had been to Uganda to photograph elephants, and I heard a recording of the Abayudaya, and I listened to it for 48 hours," Sobol said. "I couldn't believe it was real. I had a sense of rural Africa, and this didn't fit in. This was a mix of cultures I had to basically see for myself."
Sobol made contact with the leaders of the community and went to Mbale to meet them. "I went not knowing what I would find or where I would go with the story, but this struck me as an opportunity that comes around rarely, a story that is personally compelling and is unique. I was hearing prayers that I knew with African music that I loved. It sounded familiar, but not quite.
"The thing that struck me right away was the depth of their devotion and commitment," said Sobol. "These people are fourth-generation, practicing Jews, and they knew their traditions and their culture because their fathers and grandfathers taught them. Their conversion was organic. There was no rabbinical authority saying yes, you are officially part of the religion. They just started doing it the right way. It raises questions about how we identify people. If someone chooses something and lives and breathes it, that's their accreditation."
Additional programming in conjunction with the exhibition will take place on March 6, when Summit presents an audio lecture, "Music and the Construction of Community among the Abayudaya," at the gallery from 5 to 6 p.m.
The exhibition and related programming are free and open to the public. Gallery hours are Tuesday through Saturday from noon to 8 p.m. and Sunday from noon to 5 p.m. The gallery is wheelchair-accessible. For more information, contact the gallery at (617) 627-3518 or visit the gallery web site at http://www.tufts.edu/as/gallery